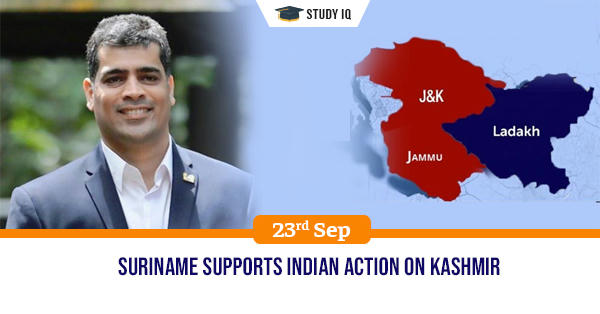 Suriname supports Indian action on Kashmir
Date: 23 September 2019
Tags: India & World
Issue
The visiting Vice-President of Suriname, Michael Ashwin Adhin has said his country had respect for India's Kashmir and won't interfere in the internal affairs of India.
Background
Pakistan has been trying to raise the Kashmir issue on global platform since India's decision to abrogate Art 370. The UNGA provides for a perfect platform for executing their intentions.
Details
The vice president said Suriname has included some of the U.N. ideals like non-interference in their Constitution and thus will abide by it.

He also said that there is a possibility of issue being raised on the margins of UNGA but said Suriname will not raise the issue.

He highlighted that Suriname always stood for dialogue and reconciliation especially in the Latin American region where several countries have asked for Suriname's help in peace building.
Suriname
Suriname is a country on the north-eastern Atlantic coast of South America. It is bordered by the Atlantic Ocean to the north, French Guiana to the east, Guyana to the west and Brazil to the south.

It is the smallest sovereign state in South America. Suriname's capital and largest city is Paramaribo.