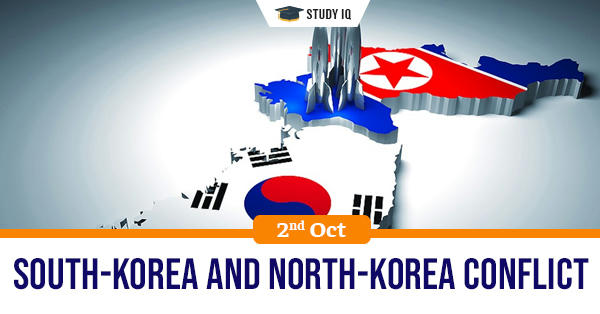 South-Korea and North-Korea conflict
Date: 02 October 2019
Tags: India & World
Issue
North Korea has fired projectiles toward its eastern sea, in an apparent display of its expanding military capabilities ahead of planned nuclear negotiations with the United States.
Background
Nuclear negotiations have been at a standstill for months following a February summit between Mr. Kim and U.S. President Donald Trump in Hanoi, Vietnam. The act by North Korea is seen a tactic to put pressure on US to abolish sanctions.
North and South Korea conflict
The Korean conflict is an ongoing conflict based on the division of Korea between North Korea (Democratic People's Republic of Korea) and South Korea (Republic of Korea), both of which claim to be the sole legitimate government and state of all of Korea.

During the Cold War, North Korea was backed by the Soviet Union, China, and its communist allies, while South Korea was backed by the United States and its Western allies.

The division of Korea by external powers occurred at the end of World War II, starting in 1945, and tensions erupted into the Korean War, which lasted from 1950 to 1953.

The United States and the USSR had to decide what to do with Korea, and they eventually opted to split the peninsula Korea rested on along the 38th parallel.

The Soviet Union would handle the north, and the United States would take of the south. North and South Korea continued a military standoff, with periodic clashes.