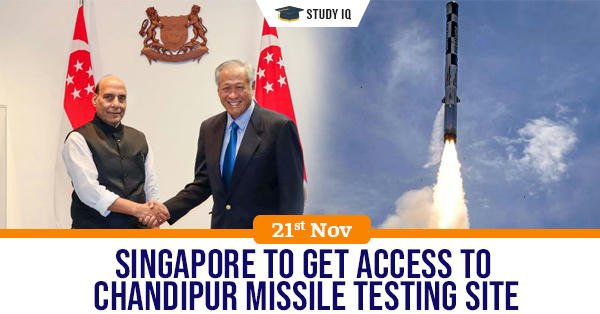 Singapore to get access to Chandipur missile testing site
Date: 21 November 2019
Tags: India & World
Issue
India and Singapore have exchanged a letter of Intent that will allow Singapore to conduct live firing of missiles like the Spyder air defence system at the Integrated Test Range at Chandipur in Odisha.
Background
It is for the first time that India will open Chandipur Integrated Test Range for any foreign country. Since Singapore is a small country it would be impossible to fire missiles like the Spyder ground-based air defence systems.
Details
The Integrated Test Range (ITR), a well equipped Test and Evaluation (T&E) center of DRDO, is set up to provide safe and reliable launch facilities for performance evaluation of rockets, missiles and air-borne weapon system.

India has previously allowed the Singapore Air Force to use its airspace for training exercises.
Integrated Missile Test Range
The Integrated Test Range, sometimes referred to as the Interim Test Range, is a missile testing facility composed of two complexes located on Abdul Kalam Island and located at Chandipur.

Abdul Kalam Island is the missile test facility for most missiles of India; Akash Missiles, Agni Missiles, Astra Missile, BrahMos, Nirbhay, Prahaar Missile, Prithvi Missiles, Shaurya Missile, Advanced Air Defence (AAD), Prithvi Air Defence and recently an ASAT missile.
APJ Abdul Kalam Island (Wheeler Island)
Abdul Kalam Island is located in the Bay of Bengal approximately 10 kilometres (6.2 mi) off the eastern coast of India and about 70 kilometres (43 mi) south of Chandipur in Bhadrak district of Odisha.

Abdul Kalam Island is located close to the Gahirmatha Marine Sanctuary, the world's largest rookery of the endangered olive ridley sea turtle. Abdul Kalam Island's sandy beaches are a favoured nesting location for the turtles.

To protect the turtles, all lights at the facility are dimmed or masked during nesting season, and missile testing is restrained during the turtles' nesting and breeding season.