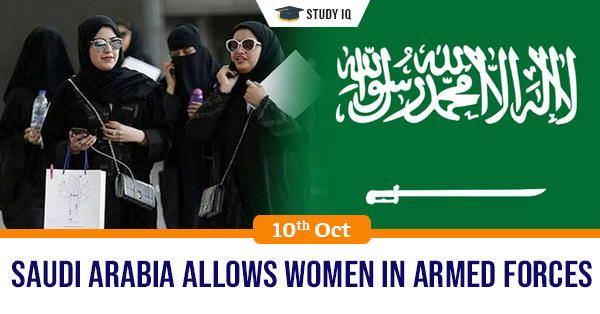 Saudi Arabia allows women in armed forces
Date: 10 October 2019
Tags: India & World
Issue
Saudi Arabia has announced that it will allow women in the ultra-conservative kingdom to serve in the armed forces.
Background
This decison is one among series of other reforms that have been introduced in the Monarchy. The measures are aimed at increasing the rights of women in the kingdom, even as rights groups accuse Saudi of cracking down on women activists.
Details
Crown Prince Mohammed bin Salman, the kingdom's de facto ruler, has approved a handful of reforms aimed at widening women's rights, including allowing them to drive and to travel abroad without consent from a male guardian.

Saudi Arabia, the world's largest crude exporter, is pushing to improve its image and attract tourists as part of a plan to diversify its economy away from oil.
Women in Indian defence forces
All wings of the Indian Armed Forces allow women in combat roles (junior ranks) and combat supervisory roles (officers), except Indian Army (support roles only) and Special Forces of India (trainer role only).

Presently, women are inducted in Indian Army through Short Service Commission (Technical) and Short Service Commission (Non-Technical) entries.

Women are inducted in all the branches and streams of Indian Air Force (IAF) service.

In Indian Navy, women officers are inducted through Short Service Commission in Logistics, Law, Observers, Medical, Dental, Air Traffic Control (ATC), Pilots (Maritime Reconnaissance Stream), Naval Armament Inspectorate (NAI) cadre, Naval Architecture, Education, Sports and Musician Branch. Government has approved Grant of Permanent Commission to SSC Officers of NAI Cadre.