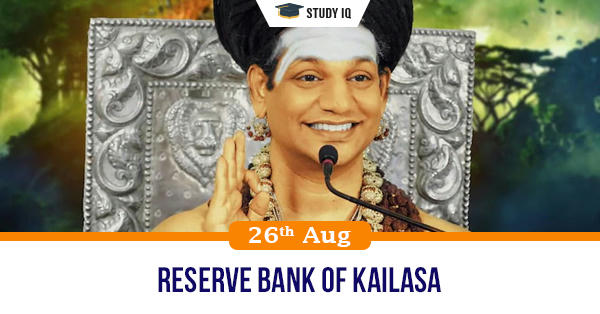 Reserve Bank of Kailasa
Date: 26 August 2020
Tags: India & World
Issue
Over a year after fleeing India to escape arrest in a rape trial, fugitive self-styled godman Nithyananda has unveiled his new central bank and freshly-minted currency of Kailasa.
Background
Nithyananda launched the 'Reserve Bank of Kailasa' and presented its official currency, called 'Kailashian dollars'.
Details
The controversial 'godman' earlier announced that he had already drafted a 300-page economic policy, which laid down his alleged nation's economic strategy. He also claimed that his country had signed a Memorandum of Understanding (MoU) with another nation to host his bank.

There is much speculation about whether Kailasa is in fact, a real nation with physical territory. Its official website claims that it is a "nation without borders created by dispossessed Hindus from around the world who lost the right to practice Hinduism authentically in their own countries".

Several news reports have suggested that the 'nation' is located in a small private island near Trinidad and Tobago, that Nithyananda allegedly purchased from Ecuador.

To avail citizenship of Kailasa, one only has to be a "practising Hindu" or a "Hindu who would like to deepen their practice".

It even has its own government, complete with departments of health, education, commerce, information broadcasting, and even 'enlightened civilisation'. Nithyananda is referred to as the 'Supreme Pontiff' of Kailasa.

The various currency denominations include — one Kailashian dollar, one-fourth Kailashian dollar, half Kailashian dollar, three-fourth Kailashian dollar, till ten Kailashian dollars.