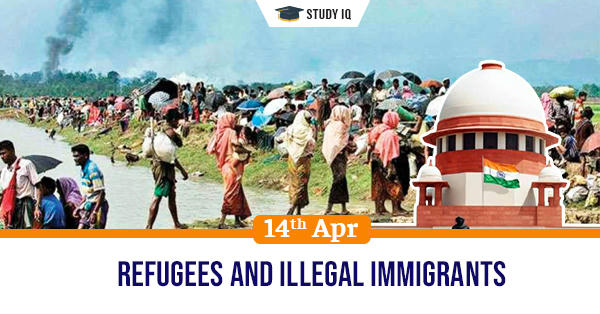 Refugees and Illegal immigrants
Date: 14 April 2021
Tags: India & World
Issue
The Supreme Court has indicated its willingness to accept centre's definition of refugees and Illegal immigrants when it refused to release Rohingya from detention camps.
Background
The Court has further ordered to deport the illegal immigrants according to procedures under the Foreigners Act, 1946.
Details
Refugee is an individual who is outside their country of origin and unable or not willing to return due to real fear of persecution on the basis of race, membership, religion, nationality of a particular social group or political opinion.

This definition has been formulated based on the 1951 UN Convention on the Status of Refugees and the subsequent 1967 Protocol.

Rohingya are said to be illegal immigrants fleeing Myanmar due to persecution. Myanmar maintains that they are illegal migrants from Bangladesh.
Indian government's position on Rohingya
The Indian government has allowed the UN High Commissioner for Refugees (UNHCR) to carry out verification and provide identity cards to Rohingya.

The official government position is that they are illegal immigrants. The public sentiment is also in favour of deporting Rohingya.
India's position on UN refugee convention
India is not a signatory to the 1951 UN convention on refugees. India does not have a refugee policy or a refugee law of its own. It has however allowed refugees in the past.

This has allowed government to keep their options open so that it can declare any groups as illegal immigrants despite UNHCR verification.

The most nearest policy on refugees is the Citizenship Amendment Act, 2019 that discriminates between refugees on the basis of religion while giving them citizenship.