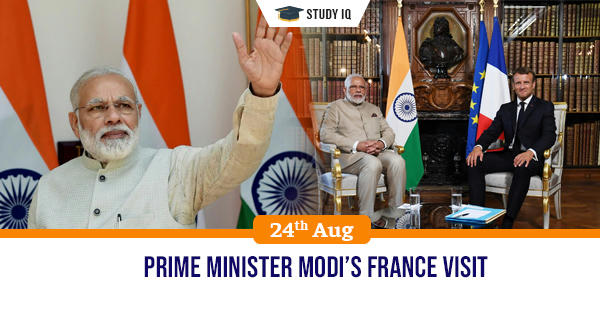 Prime Minister Modi's France Visit
Date: 24 August 2019
Tags: India & World
Issue
Prime Minister Narendra Modi is on a to 3 nation tour to visit France, UAE and Bahrain. The first leg of the tour to France has been successfully undertaken.
Background
France–India relations have traditionally been close and friendly and both countries have a 'special relationship' with each other.Both nations have a centuries-old history of trade relations.

There is also a growing and wide-ranging cooperation in areas such as trade and investment, culture, science and technology and education.
Highlights of Visit
PM will dedicate a memorial to the Indian victims of the two Air India crashes in France in the 1950s and 1960s. The site of memorial is located in Alps mountains.
The two countries will enhance their cooperation and launch fresh efforts to prevent and fight radicalisation, especially online radicalisation.

The French President has reiterated France's stand that India and Pakistan should resolve the Kashmir issue bilaterally and no third party should interfere or incite violence in the region.

France has resolved to deliver first batch of the 36 Rafael fighter jets to India next month.

PM Modi also addressed a gathering at UNESCO HQ in Paris and said India will achieve most of the climate change goals set for 2030, in the next year and a half.
Importance of France
France is a permanent member of United Nations Security council. The support of France is very significant for India's international growth and increasing its presence in global stages.

France is a major defence partner for India. Indian defence ties include Rafael aircrafts, andscorpene submarines among many others.

French space agency CNES is supporting India in its ambitious Gaganyan Mission slated in 2022.