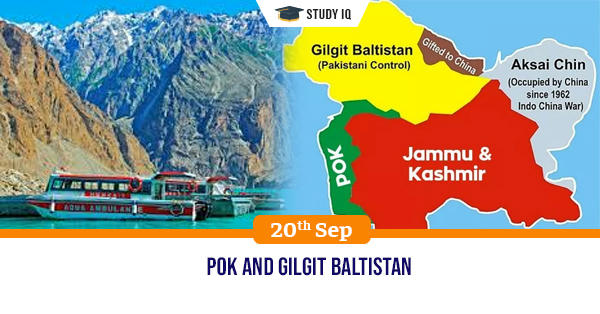 PoK and Gilgit Baltistan
Date: 20 September 2019
Tags: India & World
Issue
The Indian government has reiterated its stand on Gilgit-Baltistan, the parts of Jammu and Kashmir which are under illegal occupation by Pakistan. Various high profile ministers of the government has publicly claimed that India hopes to control these areas in the future.
Background
A resolution unanimously adopted by Parliament on February 22, 1994 affirmed that the State of Jammu & Kashmir as an integral part of India, and demanded Pakistan to vacate the areas of the Indian State of Jammu and Kashmir, which they have occupied through aggression.
Details
Pakistan Occupied Kashmir is an area which was under the control of the Pakistani forces when the ceasefire line came into effect on January 1, 1949.

This was after a 14-month period of hostilities between India and Pakistan, which began with an invasion of Kashmir by Pashtun tribesmen, and later its Army, to seize Kashmir.

The capital of PoK is Muzaffarabad, a town located in the valley of the Jhelum river which is north of Srinagar.

Pakisitan has designated PoK and Gilgit-Baltistan as "autonomous territories". Incorporating these areas into its map would damage its international position in the United Nations and elsewhere.

India, on the other hand, as per the resolution passed by Parliament in 1994 mentions that PoK and GB are both part of the State of Jammu and Kashmir, which is an integral part of India by virtue of its accession to India in 1947.