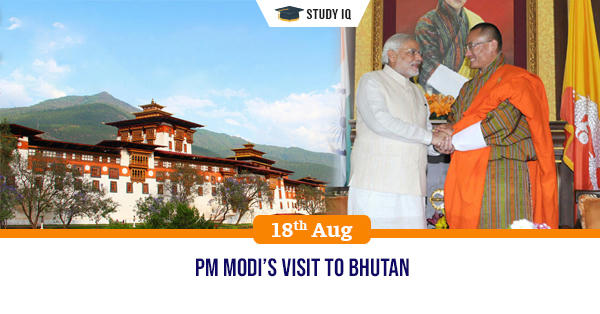 PM Modi's visit to Bhutan
Date: 18 August 2019
Tags: India & World
Issue
Prime Minister Narendra Modi has embarked on a bilateral visit to Bhutan. It will be the 2nd visit to Bhutan by PM Modi and the 1st since his re-election.
Background
Bhutan is a landlocked country in South Asia. Located in the Eastern Himalayas, it is bordered by the Tibetan Autonomous Region of China in the north, the Sikkim state of India and the Chumbi Valley of Tibet in the west, the Arunachal Pradesh state of India in the east, and the states of Assam and West Bengal in the south.

Thimphu is its capital and largest city, while Phuntsholing is its financial center. It is a member of the United Nations, SAARC, BIMSTEC and the Non-Aligned Movement.
Key Highlights of Visit
PM Modi has inaugurated Mangdechhu hydroelectric power plant and also launched stamps to commemorate five decades of India-Bhutan Hydropower cooperation on the first day. India is the largest buyer of Bhutanese hydropower
The inauguration of the Ground Earth Station and SATCOM network, developed with assistance from ISRO for utilization of South Asia Satellite in Bhutan. India will enhance the communication, public broadcasting and disaster management coverage in Bhutan.
PM Modi also launched RuPay Card in Bhutan by making a purchase at Simtokha Dzong. It functions as a monastic and administrative centre and is one of the oldest dzongs in Bhutan.
The e-plaque of the interconnection between India's National Knowledge Network and Bhutan's Druk Research and Education Network was also unveiled.
Bhutan and its significance to India
Bhutan is a buffer state between India and China. It divides the two major nuclear powers in Himalayas.

After the Dokhlam crisis where Indian and Chinese troops were engaged in standoff near Chumbi Valley, the geographical advantage of Bhutan's area has increased significantly.

It is necessary to keep India's traditional influence over Bhutan intact. This is necessary in keeping Chinese interests at bay.