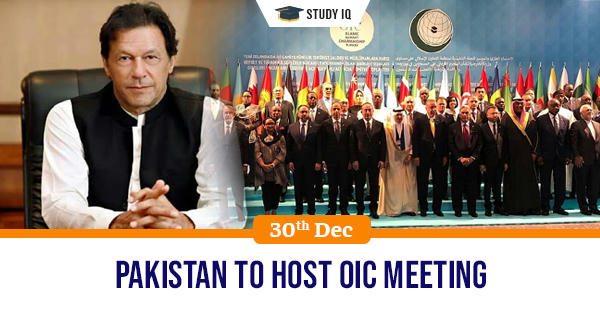 Pakistan to host OIC meeting
Date: 30 December 2019
Tags: India & World
Issue
Pakistan will hold a ministerial meeting of the 57-member Organisation for Islamic Cooperation (OIC) on Jammu and Kashmir in April 2020.
Background
If confirmed, the move would be a setback to the government's efforts to increase its engagement with the Islamic grouping, including attending the OIC conference in Abu Dhabi earlier this year.
Details
Both Saudi Arabia and the United Arab Emirates have been muted in their comments on the government's actions in Kashmir as well as the CAA subsequently.

The decision of the Saudi leadership to send its foreign minister on his first visit abroad to Pakistan, as well as to agree to an OIC statement on the Citizenship (Amendment) Act stems from Riyadh's concerns over losing control of key Islamic nations to a parallel formation, headed by Malaysia and Turkey.

Saudi Arabia leads OIC nations to showcase its control of the Islamic world, while allowing its members to use the forum to attack their own rivals.

Pakistan says that the Arab world largely ignored the issue of Kashmir until Pakistan was forced to reach out to Turkey, Iran and Malaysia for forming a new Muslim Block. This created ripples among the old block, dominated by Saudi and UAE.
OIC
The Organisation of Islamic Countries (OIC) is an international organization founded in 1969, consisting of 57 member states, with a collective population of over 1.8 billion as of 2015 with 53 countries being Muslim-majority countries.

The OIC has permanent delegations to the United Nations and the European Union.
Islam is the second-largest religion in India after Hinduism, with roughly 15% of the country's population or 201 million people identifying as adherents of Islam. It makes India the country with the largest Muslim population outside Muslim-majority countries.

However, India's relationship with Pakistan has always been tense and has a direct impact on India-OIC relations, with Pakistan being a founding member of the OIC. India has pushed for the OIC to accept India as a member, arguing that about 11% of all Muslims worldwide live in India. Pakistan opposes India's entry into the OIC.

The Permanent Secretariat is the executive organ of the Organisation, entrusted with the implementation of the decisions of the two preceding bodies, and is located in Jeddah, Saudi Arabia.