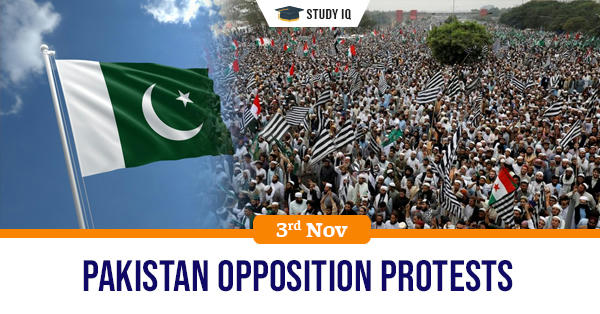 Pakistan opposition protests
Date: 03 November 2019
Tags: India & World
Issue
The opposition's Azadi March, a giant protest rally that began from Karachi several days ago and has been making its way through Pakistan, reached the capital Islamabad.
Background
This is the first major challenge to the government since Imran became Prime Minister in a controversial election said to have been manipulated in his favour by the Army in 2018. The protests have been led by Fazl-ur-Rahman, a controversial leader.
Details
Fazl-ur Rehman and his supporters say the 2018 election was unfair, and want Imran to step down. They are also angry with the state of Pakistan's economy, which is currently facing among the worst crises in its history.

Fazl-ur Rehman, sometimes referred to in Pakistan as "Maulana Diesel", is the leader of the Jamiat Ulema-i-Islam (F). He is a hardline, rightwing Islamist politician of the kind that often receives significant public support in Pakistan.

Fazl-ur Rehman has maintained close links with the Afghan Taliban, and has led several anti-US and pro-Taliban rallies and demonstrations in Pakistan over the years.

He has supported the terrorist attack on Nobel winner Malala Yousufzai in 2012, and called for the setting up of a "people's court" to try Asiya Bibi, the Christian woman who was sentenced to death for blasphemy but ultimately released.
Pakistan crisis
The Pakistani economy is running into headwinds with the fiscal deficit ballooning to about 7% of gross domestic product and a balance of payments crisis is looming.
Consumer inflation increased to 11.37% year-on-year in September from 10.49% in August largely on food price rises, while the rupee has fallen more than 50% against the dollar since the end of 2017.