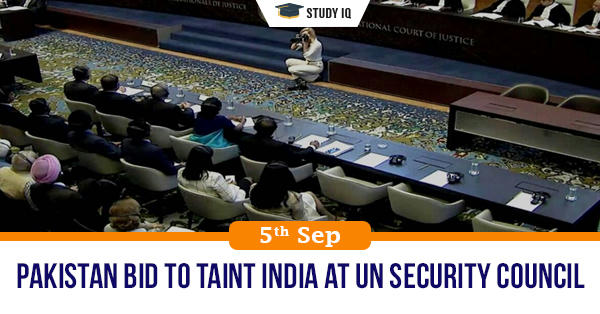 Pakistan bid to taint India at UN Security Council
Date: 05 September 2020
Tags: India & World
Issue
Five permanent and non-permanent members of the UN Security Council blocked an attempt by Pakistan to list two Indians under a UN Security Council regime targeting international terrorism.
Background
Pakistan has been trying for a year now to get four Indians, who had been working in Afghanistan, sanctioned under the UN's 1267 regime. It moved separate proposals against them between September and November 2019.
Details
On June 24, the US objected to a proposal by Pakistan to list one of the four Indians under 1267. And on July 16, there was a second block on a Pakistani proposal to list another one of the Indians.

The 1267 Committee was first set up in 1999, and strengthened by a series of resolutions in the months and years after the September 11, 2001 attacks. It is now known as the Da'esh and Al Qaeda Sanctions Committee.

Islamabad has for years accused India of fomenting terrorism inside Pakistan through Afghanistan, an allegation India rejects.

The 1267 list of terrorists is a global list, with a UNSC stamp. It is full of Pakistani nationals and residents, and Pakistan would like to get a few Indians on it as well.

Any member state can submit a proposal for listing an individual, group, or entity. The 1267 Committee, which comprises all permanent and non-permanent members of the UNSC, meets as required with a notice of four working days.

Decisions on listing and de-listing are adopted by consensus. Any proposal for listing must meet set criteria.

The proposal must include acts or activities indicating the proposed individual/group/entity had participated "in the financing, planning, facilitating, preparing, or perpetrating of acts or activities" linked to "ISIL (Da'esh), Al-Qaida or any cell, affiliate, splinter group or derivative thereof".

Any member of the Committee may also put a "technical hold" on the proposal, and ask for more information from the proposing member state. During this time, other members may also place their own holds.

Pending issues must be resolved in six months, but the member state that has placed the hold may ask for an additional three months. At the end of this period, if an objection is not placed, the matter is considered approved.