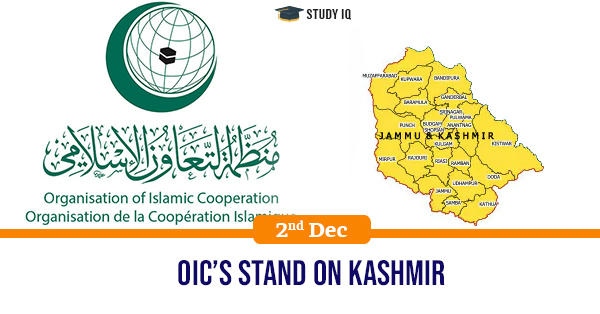 OIC's stand on Kashmir
Date: 02 December 2020
Tags: India & World
Issue
India has hit out at OIC for making factually incorrect and unwarranted references to Jammu and Kashmir during its conference.
Background
India has said that the grouping is being used by a particular country to propagate its agenda which itself has failed as a state.
Details
OIC has generally supportive of Pakistan's stand on Kashmir and has issued statements alleging Indian atrocities on its citizens.

The statement over the years has become an annual ritual without any significance to India but is displayed as a victory by Pakistan.

After the abrogation of Article 370, Pakistan lobbied hard with OIC to get a critical statement against India but the obtained response was generalised as well as mild.

Pakistan has tried to rouse a section of members of OIC to go against the views of the group and criticise India but only Turkey and Malaysia have truly responded.
India's relationship with OIC
Individually, India has good ties with majority of OIC countries. Relations with leaders of the group such as Saudi and UAE have reached new heights in recent years.

The OIC include two of India's close neighbours, Bangladesh and Maldives. These countries have very strong ties with India and are hesitant to complicate their ties by issuing statement on Kashmir. However, they have gone with the flow of OIC.
OIC
The Organisation of Islamic Cooperation is an international organization founded in 1969, consisting of 57 member states with 49 countries being Muslim-majority countries.

The organisation states that it is "the collective voice of the Muslim world" and works to "safeguard and protect the interests of the Muslim world in the spirit of promoting international peace and harmony".

The OIC has permanent delegations to the United Nations and the European Union. The official languages of the OIC are Arabic, English, and French.

The OIC aims to preserve Islamic social and economic values; promote solidarity amongst member states; increase cooperation in social, economic, cultural, scientific, and political areas; uphold international peace and security; and advance education, particularly in the fields of science and technology.

India has pushed for the OIC to accept India as a member, arguing that about 11% of all Muslims worldwide live in India. Pakistan opposes India's entry into the OIC.

The reason for opposition to India's entry into the OIC cited by Pakistan is due to the human rights issues and problems faced by the Kashmiris in the Indian territory of Jammu and Kashmir.