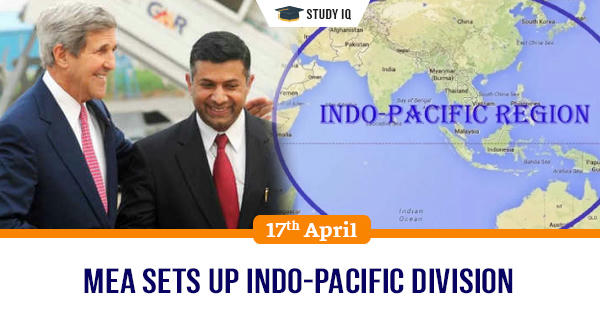 MEA sets up Indo-Pacific division
Date: 17 April 2019
Tags: India & World
Ministry of External Affairs (MEA) has set up an Indo-Pacific division in the foreign office. The new division is brainchild of foreign secretary Vijay Gokhale. It is intended to give coherent architecture to India-Pacific policy, which was articulated by Prime Minister Narendra Modi at Shangri-La Dialogue in 2018.
Indo-Pacific division
It will integrate Indian Ocean Rim Association (IORA), Association of Southeast Asian Nations (ASEAN) region and Quad to Indo-Pacific table. It will be headed for moment by joint secretary Vikram Doraiswami. Ot is expected to give thrust to the Indo-Pacific centred policymaking. MEA's territorial divisions are crucial for policy making, so the creation of an Indo-Pacific division is a big step by the government.
Background
India is planning to put greater energy to IORA because heart of its Indo-Pacific policy is rooted in the Indian Ocean. This integrates blue economy part of India's policy with security part — a trilateral security mechanism between India, Sri Lanka and Maldives used to be the core of the latter. In its Indo-Pacific diplomacy, India also has repeatedly placed ASEAN at centre of its policy. United States also has recently renamed its Pacific Command to Indo-Pacific Command as it seeks to give teeth to its Indo-Pacific policy. In India, policy will be run by MEA, along with defence ministry which runs its own Indo-Pacific policy.