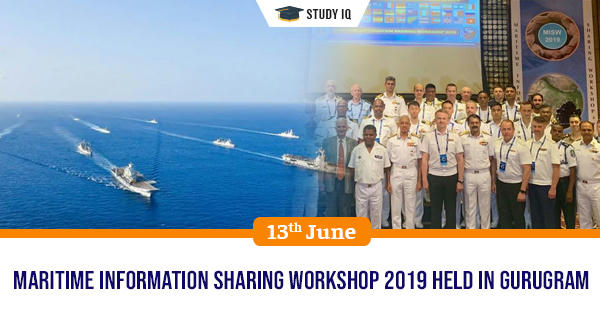 Maritime Information Sharing Workshop 2019 held in Gurugram
Date: 13 June 2019
Tags: India & World, International Organizations
The Indian Navy is hosting Maritime Information Sharing Workshop 2019 (MISW 2019) under the aegis of the Information Fusion Centre-Indian Ocean Region (IFC-IOR) at Gurugram, Harayana. The two-day event was inaugurated by Vice Admiral MS Pawar, Deputy Chief of the Naval Staff. It saw participation of more than 41 delegates from 29 countries of Indian Ocean Region (IOR) and beyond.
MISW 2019
Objectives: It was aimed at acquainting all participants about IFC-IOR and its information sharing mechanisms. It was also aimed at promoting and sharing best practices in this field for better yield response to myriad security and safety challenges faced by IOR.
Issues Highlighted: Several talks regarding contemporary maritime challenges in Indo-Pacific region were discussed. It also highlighted significance of maritime domain as well as the challenges faced by region such as piracy, maritime terrorism, humanitarian assistance & disaster relief, human & drug trafficking as well as legal perspective of combating these challenges.
About Information Fusion Centre Indian Ocean Region (IFC-IOR)
It was launched in December 2018 by then Defence Minister Nirmala Sitharaman at Indian Navy's Information Management and Analysis Centre (IMAC) Gurugram, Haryana.

It was established with vision of strengthening maritime security in the region and beyond, by building common coherent maritime situation picture and acting as a maritime information hub for the region.

It serves as a single point centre linking all coastal radar chains to generate a seamless real-time picture of the nearly 7,500-km coastline.

Through it, information on "white shipping", or commercial shipping is exchanged with countries in the region to improve maritime domain awareness in the Indian Ocean.

It works towards capability building in IOR, coordinating in time incident response and disaster relief, and also sharing submarine safety information.

All countries that have signed white shipping information exchange agreements with India can post their liaison officers at IFC.

So far, it has established linkages with more than 16 countries and 13 international maritime security agencies.

Note:

It servers as separate platform as of Indian Ocean Naval Symposium (IONS), but its all members can be part of it.