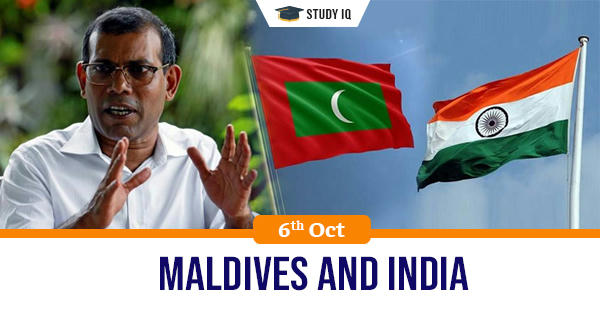 Maldives and India
Date: 06 October 2019
Tags: India & World
Issue
Maldivian parliamentary Speaker and former President Mohammed Nasheed distanced Maldives from endorsing the statement issued by the Organisation of Islamic Countries (OIC) criticising India for its Kashmir action.
Background
Mr. Nasheed's Maldivian Democratic Party, that came to power in September 2018, has effected a marked improvement in India-Maldives ties in the past year.
Details
Mr Nasheed has said that the issue is a internal matter specific to India and other countries had no role in interfering in the matter.

He also described China's actions and investments in Maldives as more exploitative than East India Company, which triggered a strong opposition from Chinese ambassador to Maldives.
Bilateral relations
Strategic and Military
Ekuverin, an annual joint military exercise is held every year since 2009 between India and Maldives.

India will permanently base two helicopters in the country to enhance its surveillance capabilities and ability to respond swiftly to threats.

The Indian Coast Guard (ICG) will carry out regular Dornier sorties over the island nation to look out for suspicious movements or vessels. The Southern Naval Command will overlook the inclusion of Maldives into the Indian security grid.
Commercial
India established the Indira Gandhi Memorial Hospital in Malé, the capital of Maldives, expanded telecommunications and air links and increased scholarships for Maldivian students.

India and Maldives have announced plans to jointly work to expand fisheries and tuna processing.