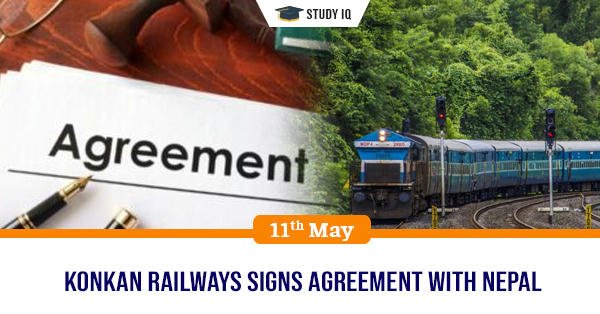 Konkan Railways signs agreement with Nepal
Date: 11 May 2019
Tags: India & World
Konkan Railways Corporation Ltd (KRCL) has signed agreement with Nepal's Department of Railways to supply two 1600 HP DEMU (Diesel Electric Multiple Unit) train sets. These trains will be used to operationalise 34 km long railway link between Jayanagar in India and Kurtha in Nepal.
1600 HP DEMU Train Sets
These two 1600 HP DEMU train set will be manufactured by Integrated Coach Factory located in Chennai. Each train will have three coaches, including air-conditioned coach.
Jayanagar-Kurtha Railway Link
It is built by IRCON (Indian Railway Construction Company) with financial grant from the Government of India (GoI) under India-Nepal Development Partnership program.
Konkan Railway
It is subsidiary zone of the Indian Railways operating 741km line connecting western Maharashtra, Goa and Karnataka.

It is operated by Konkan Railway Corporation Limited (KRCL), a subsidiary of the Indian Railways (IR). It is headquartered at CBD Belapur in Navi Mumbai, Maharashtra.

The full fledge operation of trains on this line was started in 25 January 1998 and the first passenger train ran in March 1993 between Udupi and Mangalore.