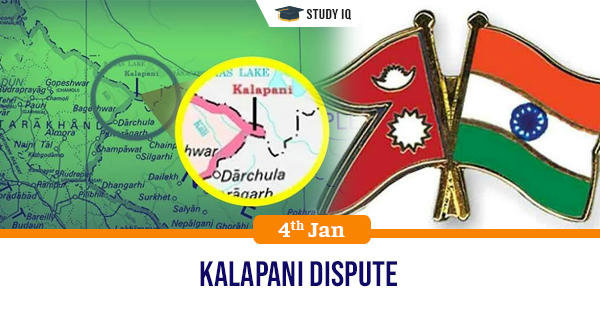 Kalapani dispute
Date: 04 January 2020
Tags: India & World
Issue
India had said that new political map of the country did not revise anything as far as the border with Nepal is concerned.
The response came after Nepal's foreign ministry complained that the map depicted Nepali territory of Kalapani as part of the Indian state of Uttarakhand.
Background
The Kalapani territory is an area disputed between India and Nepal, but under Indian administration as part of Pithoragarh district in the Uttarakhand state. According to Nepal's claim, it lies in Darchula district, Sudurpashchim Pradesh.
Details
Kalapani is a 35 square kilometre area, which is claimed by both India and Nepal. River Mahakali, earlier known as river Kali, flows through Kalapani, which is situated on the eastern bank of the river.

Kalapani is also a tri-junction point, where the Indian, Nepalese and Tibetan (Chinese) borders meet. The region has been manned by the Indo-Tibetan Border Police since 1962.

The 1816 Treaty of Segauli, signed between British India and Nepal, defined river Mahakali as the western border of Nepal. River Mahakali has several tributaries, all of which merge at Kalapani.

India claims that the river begins in Kalapani as this is where all its tributaries merge. But Nepal claims that it begins from Lipu Lekh Pass, the origin of most of its tributaries.

Nepal has laid claim to all areas east of the Lipu Gad, the rivulet that joins the river Kali on its border, a tri-junction with India and China.

Lipu Gad is one of the major tributaries that merge into the main river at Kalapani. The Nepalese contention is that the Lipu Gad is, in fact, the Kali river up to its source to the east of the Lipu Lekh Pass.

The Indian side contends that river Mahakali begins where Lipu Gad meets the Kalapani springs and this is the extent of its territory.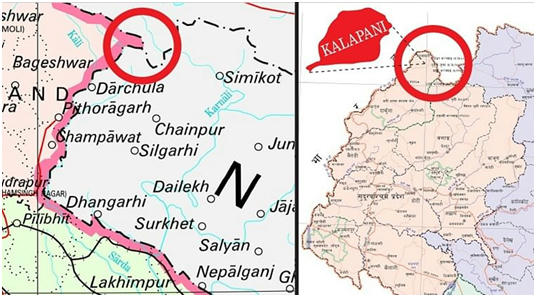 Current status
The two countries had formed the Joint Technical Boundary Committee in 1981 to resolve the dispute. Though the committee managed to resolve a large part of the dispute, they failed to reach a final settlement.

Eventually, the issue was referred to the foreign secretaries of the two countries and they have been trying to find a resolution to the dispute.