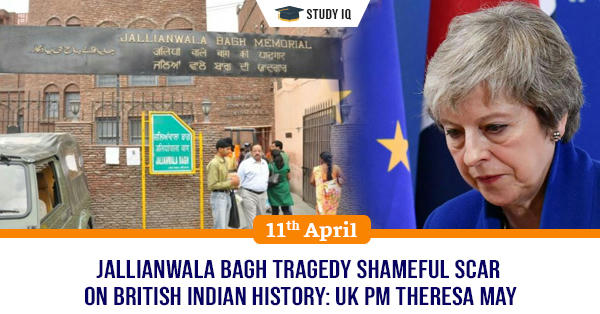 Jallianwala Bagh tragedy shameful scar on British Indian history: UK PM Theresa May
Date: 11 April 2019
Tags: India & World
British Prime Minister Theresa May ahead of centenary of Jallianwala Bagh massacre has eiterated United Kingdom (UK) government's long-standing expression of 'deep regret' over 13 April 1919 Jallianwala Bagh massacre. She called massacre 'shameful scar' on British Indian history. However, she did not issue any formal apology. Her statement is in line with Britain's position since mid-1990s of expressing 'deep regret' for Jallianwala Bagh massacre and not issuing a formal apology.
Jallianwala Bagh Massacre
Jallianwala Bagh Massacre also known as Amritsar Massacre took place on 13 April 1919 when troops of British Indian Army under command of Colonel Reginald Dyer openly fired on peaceful crowd gathered in Jallianwala Bagh, Amritsar, Punjab. In this cold-blooded genocide approximately 1,000 innocent civilians dead and more than 1,500 were injured.
The crowd had gathered at Jallianwala Bagh to celebrate Baisakhi festival, which marks beginning of New Year for Sikhs and in addition it is spring harvest festival for Sikhs. During this time Rowlatt Act, 1919 was in force, but civilians were not informed. This act had imposed curfew and ban on all processions and even prohibited group of 4 or more people to meet publicly.
This ground stands witness to inhuman atrocities of British Empire. To keep in mind this significance of this place, trust was founded in 1920 to build memorial site at Jallianwala Bagh. American architect, Benjamin Polk, built memorial site. It was inaugurated by then President Rajendra Prasad on 13 April 1961.