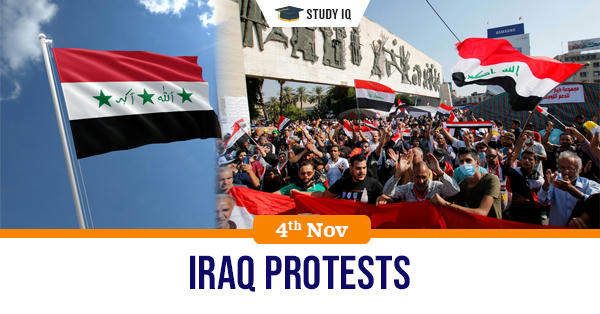 Iraq protests
Date: 04 November 2019
Tags: India & World
Issue
Protesters in Iraq's capital and the country's south shut down streets and government offices in a new wave of civil disobedience movement demanding wholesale change of the political system.
Background
Demonstrations broke out on October 1 in outrage over rampant corruption and unemployment in Iraq. They were met with a violent crackdown that left dozens dead.
Details
Students took part in sit-ins at their schools, and the national teachers union extended a strike they began last week. The engineering, doctors and lawyers syndicates have all backed the protests.

The government has proposed a string of reforms, including a hiring drive, social welfare plans and early elections once a new voting law is passed. But protesters have stayed on the streets, condemning the political class.

Protesters also kept closed the highway to the Qasr port in Basra, one of the main conduits for food, medicine and other imports into Iraq.
Iraq
Iraq, officially the Republic of Iraq, is a country in Western Asia, bordered by Turkey to the north, Iran to the east, Kuwait to the southeast, Saudi Arabia to the south, Jordan to the southwest and Syria to the west. The capital, and largest city, is Baghdad.

Currency is Iraqi Dinar.

The country is surrounded by northwestern end of the Zagros mountain range and the eastern part of the Syrian Desert.

Two major rivers, the Tigris and Euphrates, run south through Iraq and into the Shatt al-Arab near the Persian Gulf.

Prime Minister- Adil Abdul-Mahdi

President – Barham salih