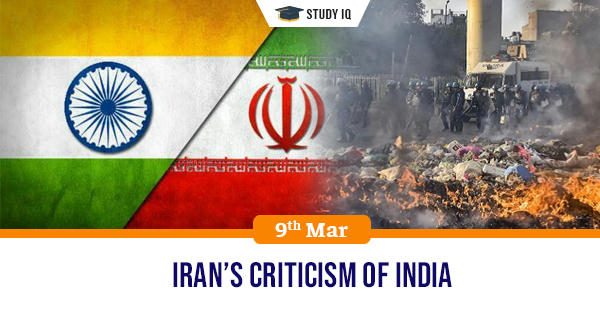 Iran's criticism of India
Date: 09 March 2020
Tags: India & World
Issue
Iran criticised India twice on the Delhi riots. Iranian Foreign Minister Javad Zarif tweeted about "the wave of organized violence against Indian Muslims" and urged India to "not let senseless thuggery prevail".

Background
Indian authorities conveyed to Iran's ambassador that selective and tendentious characterisation of recent events in Delhi are not acceptable, thereby lodging a formal protest.
Details
On March 5, it was Iran's Supreme Leader Ayatollah Ali Khamenei who criticised India, who said that "the hearts of Muslims all over the world are grieving over the massacre of Muslims in India. The govt of India should confront extremist Hindus & their parties & stop the massacre of Muslims in order to prevent India's isolation from the world of Islam".

There were two other occasions, in 1992 and 2002, when Iran's response to events in India is worth recalling.

The day after the Babri Masjid was demolished, the Iranian government summoned then Indian Ambassador Hamid Ansari, later India's Vice President. The Iranian Foreign Ministry issued a démarche, made a public statement, and conveyed the concerns of Supreme Leader Khamenei to Ansari "behind closed doors".

Despite this, Prime Minister P V Narasimha Rao visited Iran in September 1993 — the first Indian PM to do so since the Islamic Revolution in 1979.

In March 1994, Iran came to India's rescue at the UN Human Rights Commission by blocking a consensus on Kashmir. But months later, Iran accused India of reneging on its promise to let a delegation of Organisation of Islamic Conference ambassadors into Kashmir.

By 1994, relations improved again, possibly prompted by the Pakistan ISI's power play in Afghanistan, where Taliban became the dominant force.

The next test of the relationship came when the Gujarat riots took place during February-March 2002. The Iranian government conveyed its concerns to the Indian government.

What possibly sets apart Iran's reaction now from that on previous occasions is the intensity of Khamenei's words. Iran-watchers say that the tough language was Khamenei's way of underlining the importance Iran attaches to the issue.
Reasons for changes in policy
It is important to note that China has become Iran's biggest economic partner, and Beijing's influence is visible in its foreign policy actions.

While India strengthens its ties with the US, Iran knows that New Delhi needs Tehran for access to Afghanistan and Central Asia through the strategically-located Chabahar port.

Iran is also positioning to play the leadership role in the Islamic world, with Saudi Arabia and the UAE perceived to be close to the US.
Conclusion
After Prime Minister Narendra Modi's efforts over five-and-half years to build relationships from Saudi Arabia to Iran, UAE to Indonesia, the remarks by Iran in particular and some other Muslim-majority countries will be seen as a weakening of India's diplomatic clout.