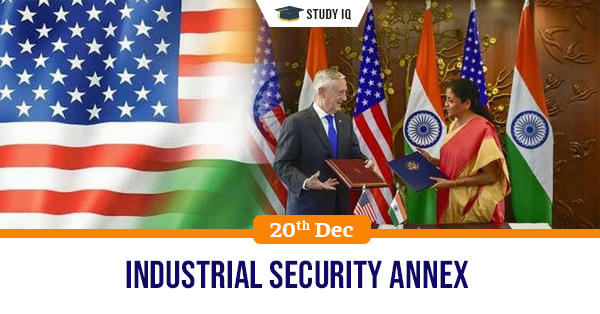 Industrial Security Annex
Date: 20 December 2019
Tags: India & World
Issue
India and the US have signed the Industrial Security Annex (ISA) during the 2+2 dialogue held in Washington.
Background
With signing of ISA, three of four foundational agreements are through. The Basic Exchange and Cooperation Agreement for Geo-spatial Cooperation (BECA) is still under negotiation.
Details
The ISA is a part of the General Security Of Military Information Agreement (GSOMIA), which India signed with the U.S. long back.

It became critical as India opened up the defence sector to the private sector and the Strategic Partnership policy, which has few big military platforms and is reserved for the Indian private sector.

The 2+2 meeting will also be taking a review of the progress made on operationalising the Communications Compatibility and Security Agreement (COMCASA) which India has already signed with the US.
Benefits
ISA will open the door for U.S. defence companies to partner with the Indian private sector for several multi-billion dollar deals in the pipeline, especially the deal for 114 fighter jets.
COMCASA
The COMCASA once operationalised will enable the ability between Armed Forces from the two nations to carry out encrypted communications and information sharing.
LEMOA
LEMOA is a facilitating agreement that establishes basic terms, conditions, and procedures for reciprocal provision of Logistic Support, Supplies, and Services between the armed forces of India and the United States.
Logistic Support, Supplies, and Services include food, water, billeting, transportation, petroleum, oils, lubricants, clothing, communication services, medical services, storage services, training services, spare parts and components, repair and maintenance services, calibration services, and port services.
GSOMIA
General Security Of Military Information Agreements (GSOMIA) is one of the four foundational agreements that the U.S. signs with allies and close partners to facilitate interoperability between militaries and sale of high end technology.
The agreement enables the sharing of military intelligence between the two countries and requires each country to protect the others' classified information.
BECA
Basic Exchange and Cooperation Agreement (BECA) would facilitate exchange of geospatial information between India and United States for both military and civilian use.