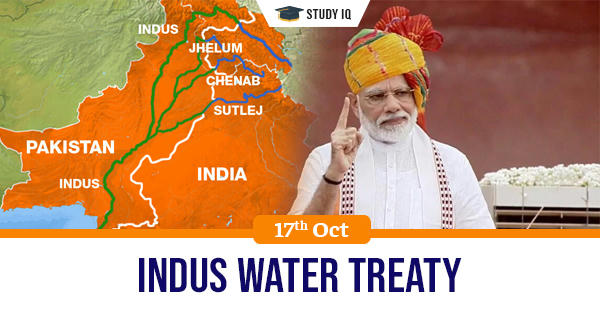 Indus Water Treaty
Date: 17 October 2019
Tags: India & World
Issue
Prime Minister Narendra Modi has promised the farmers of Haryana that the river water which belongs to India under Indus Water Treaty, but is flowing to Pakistan would soon get diverted to the fields of Haryana and Rajasthan for the benefit of agriculture in the state.
Background
India shares its water with Pakistan under the Indus Waters Treaty. For many decades, India has allowed its share of water also to go to Pakistan without full utilisation.
Details
Indus Waters Treaty was signed on September 19, 1960, between India and Pakistan and brokered by the World Bank.

The treaty fixed and delimited the rights and obligations of both countries concerning the use of the waters of the Indus River system.

The Indus River system has been used for irrigation since time immemorial. During the period of British rule in India, large canal systems were constructed, and old canal systems and inundation channels were revived and modernized.

After partition, the water system was bifurcated, with the headworks in India and the canals running through Pakistan. This created tensions on both side.

The treaty gave the waters of the western rivers, the Indus, Jhelum, and Chenab to Pakistan and those of the eastern rivers, the Ravi, Beas, and Sutlej to India. It also provided for the funding and building of dams, link canals, barrages, and tube wells.

Currently India has built the Kishanganga dam in Kashmir and continued work on the Ratle hydroelectric power station on the Chenab River despite Pakistan's objections.
Current status
Currently India has been under utilising its share of river water and is allowing them to pass to Pakistan. India plans to develop various other projects like Shahpurkandi to store and use its water share.

Water has been extensively used as a strategic tool to put pressure on Pakistan, with India threatening to suspend treaty is Pakistan does not mend its way.

Pakistan's economy is heavily agriculture based and is fully dependent on irrigation from rivers. Stopping river water flow will put additional pressure on Pakistani government to provide drinking water as well as irrigation water for its citizens.