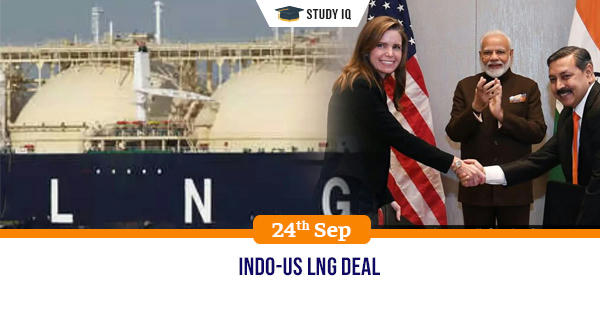 Indo-US LNG deal
Date: 24 September 2019
Tags: India & World
Issue
Tellurian Inc. has signed a $7.5 billion agreement for India's Petronet LNG Ltd to buy a stake in its proposed liquefied natural gas (LNG) terminal in Louisiana. This could potentially be one of the largest foreign investments in the US for shipping shale gas abroad.
Background
India is one of the fastest growth markets for LNG and should soon become the second-largest LNG importer. The surge of new supply from the US' trove of shale gas has made the fuel accessible for emerging markets such as India, which is currently the sixth-largest buyer of US LNG.
Details
The pact has been signed on the sidelines of PM Modi's meeting with top executives of US energy majors in Houston such as CEOs of US energy companies like Tellurian Inc., Exxonmobil, BP Plc, Cheniere Energy, Dominion Energy, and Total SA.

Petronet will invest $2.5 billion in Tellurian's proposed Driftwood LNG export terminal, in exchange for the rights to 5 million metric tonnes of LNG per year over 40 years.

India, the biggest emitter of greenhouse gases after the US and China, has been pushing for a gas-based economy and plans to connect 10 million households to piped natural gas by 2020.

Increasing natural gas use will enable India to fuel its impressive economic growth to achieve goal of a $5 trillion economy while contributing to a cleaner environment.
LNG and India
Gas comprises about 6.2% of India's primary energy mix, far behind the global average of 24%. The government plans to increase this share to 15% by 2030.

India's gas demand is expected to be driven by the fertilizer, power, city gas distribution, and steel sectors.

India's energy demand is expected to grow at 4.2% per year over the next 25 years. It currently consumes 145 million standard cubic meters a day (mmscmd) of gas thus making India the world's fourth-largest LNG importer.