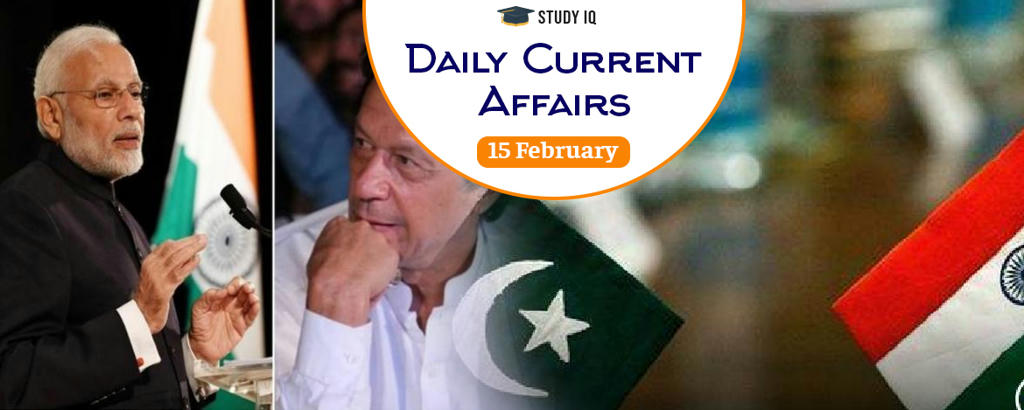 India withdraws Most Favoured Nation status to Pakistan
Date: 15 February 2019
Tags: India & World
India has decided to withdraw Most-Favoured Nation (MFN) status accorded to Pakistan following Pulwama terror attack in Jammu and Kashmir (J&K). The decision was taken during meeting of Cabinet Committee on Security (CCS), presided by Prime Minister Narendra Modi to discuss security scenario in J&K in the wake of the terror attack. The decision is intended to isolate Pakistan diplomatically and squeeze its industry.
Most Favoured Nation (MFN)
It is special trade status given to international trade partner by a country to ensure non-discriminatory trade between all partner countries of World Trade Organisation (WTO).

It is the first clause in General Agreement on Tariffs and Trade (GATT). Country which provides MFN status to another country has to provide concessions, privileges, and immunity in trade agreements.

Under WTO rules, member country is not allowed to discriminate between trade partners and if it grants special status to one trade partner, then it is required to extend it to all members of WTO.

It is non-discriminatory trade policy as it ensures equal trading among all WTO member nations rather than exclusive trading privileges.

It helps reduce trade barriers and results in reduction in tariffs especially in customs duty, thus strengthening trade-ties between two countries.

India has already granted this status to all WTO members, including Pakistan (accorded in 1996), but Pakistan has not fully accorded MFN status for India.
India-Pakistan trade
It was $2.41 billion in 2017-18, marginally increased from $2.27 billion in 2016-17. India had exported goods worth $ 1.92 billion to Pakistan and imported goods worth $488.5 million in 2017-18.

India's exports to Pakistan mostly include sugar, cotton, chemicals, dyes, vegetables, carpets, iron and steel and its imports include fruits, chemicals, cement, leather and spices etc.
Impact
The withdrawal of the MFN status by India is negative in sentiment terms for its bilateral relations with Pakistan. Its impact on bilateral trade is unlikely to be substantial given that volumes of merchandise trade between both countries is low.
Committee on Security (CCS)
It is one of six cabinet committees and is chaired by Prime Minister. It comprises of Union Minister of External Affairs, Defence Minister, Home Minister and Finance Minister.

It takes major decisions with respect to issues of national security, defence expenditure of country and significant appointments.

It deals with all defence related issues, issues relating to law and order and internal security, policy matters concerning foreign affairs that have internal or external security implications

It also deals with economic and political issues impinging on national security, matters relating to atomic energy.

It also approves defence deals involving capital expenditure of more than Rs. 1000 crore in respect of Department of Defence Production and Department of Defence Research and Development.