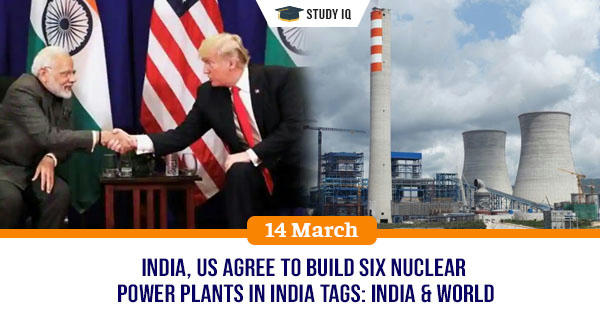 India, US agree to build six nuclear power plants in India
Date: 14 March 2019
Tags: India & World
India and US have agreed to build six American nuclear power plants in India as part of measures to strengthen security and civil nuclear cooperation. No details of nuclear plant project were given.
Thus announcement came after conclusion of 9th round of India-US strategic security dialogue. The dialogue was co-chaired by foreign secretary Vijay Gokhale and Andrea Thompson, US under-secretary of state for arms control and international security.
India-US Nuclear Ties
United States has been looking to sell more energy products to India, the world's third-biggest buyer of oil. Both countries have been discussing supply of US nuclear reactors to energy-hungry India for more than decade.

India and US had signed historic agreement to cooperate in civil nuclear energy sector in October 2008. It had given fillip to bilateral ties, which have been on an upswing since. India also had received waiver under Nuclear Suppliers Group (NSG) in 2008 because of strong support of US.

India, US nuclear deal is facing longstanding obstacle over issue India's nuclear liability rules, which require costs of any accident to be channelled to operator rather than maker of nuclear power station.

US based Westinghouse (subsidiary of Toshiba) has been negotiating to build six AP1000 reactors in India for years, but progress was slow, partly because of India's nuclear liability legislation (The Civil Liability for Nuclear Damage Act, 2010).

Besides, project was thrown into doubt when Westinghouse filed for bankruptcy in 2017. It was later bought by Canada's Brookfield Asset Management from Toshiba in August 2018.

In recent times, Westinghouse has received strong support from US administratin for its India project, which envisaged building of six AP1000 reactors in the state of Andhra Pradesh.
Background
India is planning to triple its nuclear capacity by 2024 to its dependency on imported fossil fuels. NSG waiver had enabled India to sign cooperation agreements with a dozen countries. Post-NSG waiver, India had signed civil nuclear cooperation agreements with US, Russia, Canada, France, Australia, Argentina, Sri Lanka, United Kingdom, Japan, Vietnam, Bangladesh, Kazakhstan and South Korea. In October 2018, India and Russia signed agreement to build six more nuclear reactors in India.