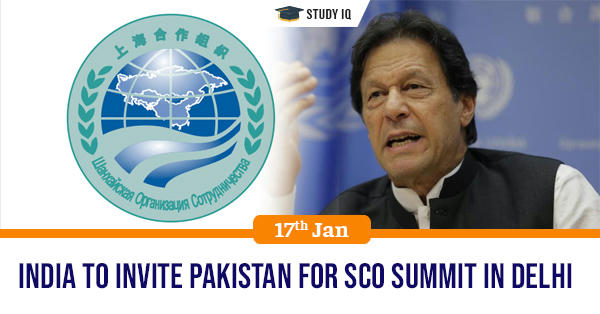 India to invite Pakistan for SCO summit in Delhi
Date: 17 January 2020
Tags: India & World
Issue
India said that it will invite the heads of government of all member countries of the Shanghai Cooperation Organisation (SCO), including Pakistan, when it hosts the summit later this year.
Background
India and Pakistan became members of the SCO in 2017,and India usually sends its Foreign or Defence ministers to attend the SCO heads of government meetings.
Details
This would mean that Pakistan's representative, either Prime Minister Imran Khan or a Minister will be coming to India to attend the SCO heads of government meeting.

If Khan comes for the meeting, this will be the first opportunity for the Indian government to host him after he became Prime Minister in 2018.

The government's announcement comes hours after Pakistan's efforts to raise J&K at the United Nations Security Council through China failed.
Shanghai Cooperation Organisation
The Shanghai Cooperation Organisation (SCO), or Shanghai Pact, is a Eurasian political, economic, and security alliance, which was created on 15 June 2001 in Shanghai, China by China, Kazakhstan, Kyrgyzstan, Russia, Tajikistan, and Uzbekistan.

The organisation has expanded its membership to eight countries when India and Pakistan joined SCO as full members on 9 June 2017 at a summit in Astana, Kazakhstan.

The Heads of State Council (HSC) is the supreme decision-making body in the SCO, it meets once a year and adopts decisions and guidelines on all important matters of the organisation.

Military exercises are also regularly conducted among members to promote cooperation and coordination against terrorism and other external threats, and to maintain regional peace and stability.