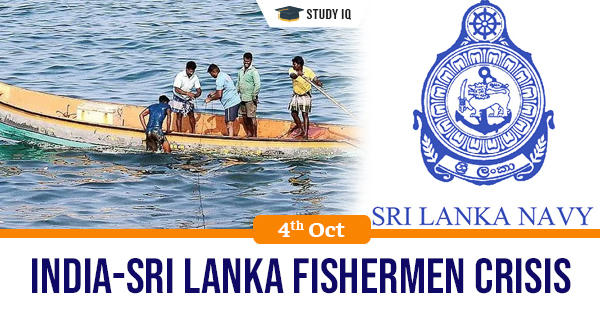 India-Sri Lanka fishermen crisis
Date: 04 October 2019
Tags: India & World
Issue
Four Tamil Nadu fishermen were arrested by Sri Lankan Navy on charges of fishing in the island nation's waters and their boat confiscated.
Background
India and Sri Lanka share a long history of water boundary dispute when it comes to EEZ of the both countries. The Sri Lankan navy alleges that Indian fishermen are indulging in illegal fishing in their waters.
Details
Both Indian and Sri Lankan fishermen have been fishing into Palk Bay area for centuries. Problem emerged only after a maritime agreement was signed by India and Sri Lanka in 1974.

Initially the 1974 border agreement did not affect fishing on either sides of the border. In 1976, through an exchange of letter, both India and Sri Lanka agreed to stop fishing in each other's waters.

The agreement could not stop the fishermen from fishing in these waters, as fishermen know no boundary. They go wherever they can get maximum number of catch.

Cases of arrest of Sri Lankan fishermen by Indian authorities are comparatively less since they mostly fish in the high seas by using multi-day crafts.

On the other hand, due to the dearth of multi-day fishing capability, Indian fishermen cannot shift their fishing effort from the Palk Bay area to the offshore areas of the Indian waters or way beyond the continental shelf.

After the end of War in 2009, the Sri Lankan fishermen have been raising their objection to Indian fishermen fishing in their waters.

It is estimated that more than 500 trawlers from Tamil Nadu cross the International Maritime Boundary Line and fish in the Sri Lankan side of the Palk Bay, threatening the livelihoods of the fishermen in the north of Sri Lanka, who have just commenced fishing after the end of war in 2009.