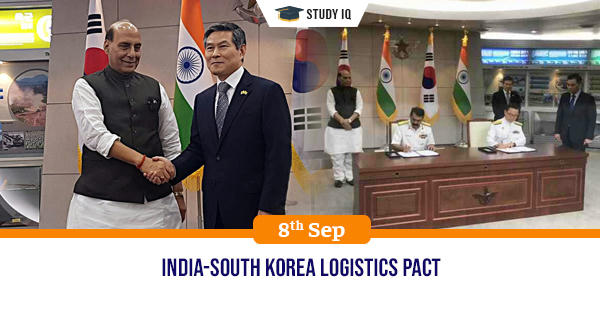 India-South Korea logistics pact
Date: 08 September 2019
Tags: India & World
Issue
India and South Korea concluded a military logistics agreement during the ongoing visit of Defence Minister Rajnath Singh to Seoul. The two countries have also formulated a forward-looking road map to take bilateral defence industry cooperation to the next level.
India-S.Korean defence relations
Korean companies have been active in the Indian defence sector like the K9 Vajra mobile artillery guns are being made by L&T in collaboration with Hanwha Land Systems.
India has set an ambitious target for itself when it comes to defence exports. India believes that external markets have to be tapped to develop a commercially viable military industrial complex.
Details
India will be able to get assured logistic support when it operates in the Indo-Pacific in the ports of South Korea. Such agreements extend the reach, presence and sustainability of Navy ships when deployed at great distances from home ports.

The decision to extend logistical support to each other's navies will significantly enhance Indian reach in the Indo-Pacific and will place South Korea amongst close partners like the US and France that have similar bilateral pact.

India has also listed a number of proposed areas of cooperation in land, aero and naval systems, research and development cooperation and collaboration in testing, certification and quality assurance with S.Korea.

India offers tremendous business opportunity to Korean defence industries and initiatives like the defence industrial corridors being promoted by the government will take the relations to the next level.