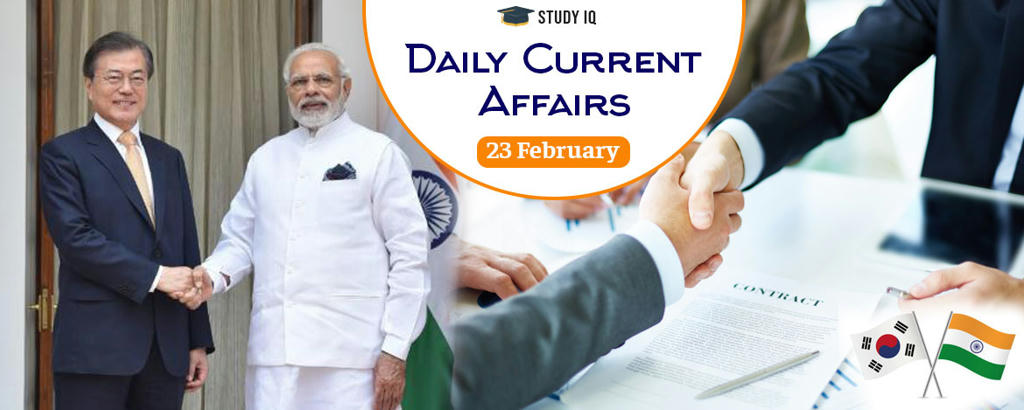 India, South Korea ink six agreements to enhance cooperation
Date: 23 February 2019
Tags: India & World
India and South Korea have signed six agreements/MoUs to enhance bilateral cooperation in key areas, including infrastructure development, media, start-ups and combating trans-border and international crime.
They were singed during Prime Minister Narendra Modi's visit to South Korea on the invitation of President Moon Jae-in. This was his second visit to South Korea since 2015 and second summit meeting with South Korean President.
Signed Agreements are
MoU on release of commemorative postal stamp on Queen Hur Hwang-ok (Suriratna):

She was Ayodhya's legendary Princess Suriratna, who had traveled to Korea in 48 CE and married Korean King Suro.

L

arge number of Koreans trace their ancestry to this legendary princess.

MOU on Extension of Korea Plus:

It will continue operations of Korea Plus- an organization that facilitates investments by South Korean companies in India.

It was operationalized in June 2016 and comprises representatives from Ministry of Industry, Trade and Energy of South Korea, Korea Trade Investment and Promotion Agency (KOTRA) and Invest India.

MoU on Start-up Cooperation

: It aims to promote collaboration among Start-ups of both countries,

It also seeks to set up of Korea Start-up Centre (KSC) in India to commercialize ideas, technologies and designs of Startup companies.

MoU on Combating Transnational Crime and Developing Police Cooperation:

It was signed between Korean National Police Agency and Ministry of Home Affairs.

It aims to enhance cooperation between law enforcement agencies of two countries and combat trans-border and international crimes.

MoU on Cooperation in Broadcasting

: It was signed between Korean Broadcasting System (KBS) and Prasar Bharti.

It seeks to facilitate broadcast of DD India Channel in South Korea and KBS World Channel in India.

MoU on Cooperation in Infrastructure: It was signed between National Highways Authority of India (NHAI) and Korea Expressway Corporation.

It aims to promote bilateral cooperation in road and transport infrastructure development projects of India.

It also seeks to facilitate technical and institutional knowledge exchange in the field of road and transport.