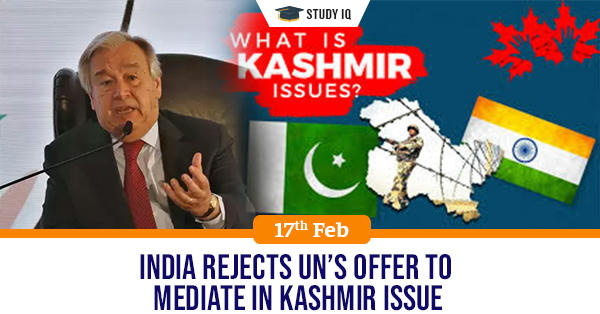 India rejects UN's offer to mediate in Kashmir issue
Date: 17 February 2020
Tags: India & World
Issue
The government has rejected the latest offer by U.N. Secretary-General Antonio Guterres to mediate between India and Pakistan on the Kashmir issue, saying that it would only discuss the matter bilaterally.
Background
The U.N. Secretary-General has offered several times to mediate on the issue, and had repeated the offer last September after India-Pakistan tensions flared over the government's decision to amend Article 370 and impose restrictions in Jammu and Kashmir.
Details
While the government's rejection of the offer is also routine, it may also be meant as a reminder to U.S. President Donald Trump, who has made several offers of mediation in the past, and will arrive in India in a week's time.

India said that, Jammu and Kashmir has been, is and will continue to be an integral part of it. The issue that needs to be addressed is that of vacation of the territories illegally and forcibly occupied by Pakistan.
The United Nations
The United Nations (UN) is an intergovernmental organization that aims to maintain international peace and security, develop friendly relations among nations, achieve international cooperation, and be a center for harmonizing the actions of nations.

It is the largest, most familiar, most internationally represented and most powerful intergovernmental organization in the world. The UN is headquartered on international territory in New York City; other main offices are in Geneva, Nairobi, Vienna and The Hague.

The UN has six principal organs: the General Assembly; the Security Council; the Economic and Social Council (ECOSOC); the Trusteeship Council; the International Court of Justice; and the UN Secretariat.

The UN System includes a multitude of specialized agencies, such as the World Bank Group, the World Health Organization, the World Food Programme, UNESCO, and UNICEF.