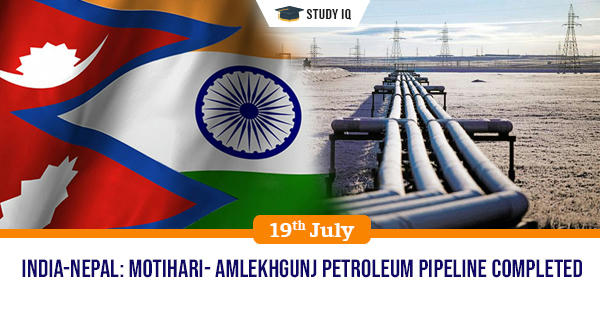 India-Nepal: Motihari- Amlekhgunj Petroleum Pipeline completed
Date: 19 July 2019
Tags: India & World
Motihari- Amlekhgunj petroleum pipeline project between India and Nepal has been successfully completed by India. Testing of the pipeline has been completed and as part of trial, diesel was released from Motihari recently which reached Amlekhgunj. It will start commercial operation by August 2019
Motihari- Amlekhgunj Petroleum Pipeline
It is 69-kilometre long petroleum pipeline which connects Motihari (Bihar) to Amelkhgunj (Nepal). It has been constructed by India. It is first cross-border project in the entire South-Asia..
Its ground-breaking ceremony was launched April 2018 by Prime Minister Narendra Modi and his Nepalese counterpart K P Sharma Oli.
Of the total length of the pipeline, 32.25 kilometers is in Indian Territory (from Raxaul to Motihari) and other 37.25 kilometers from India-bordering market Raxaul to Amlekhgunj of Bara in Nepal.
Benefits: Petroleum products will be imported to Nepal from India via this pipeline. It will ensure smooth, cost-effective and environment-friendly supply of petroleum products to Nepal. It will help in tackling oil storage problem in Nepal and doing away with transportation of petroleum products through tankers.