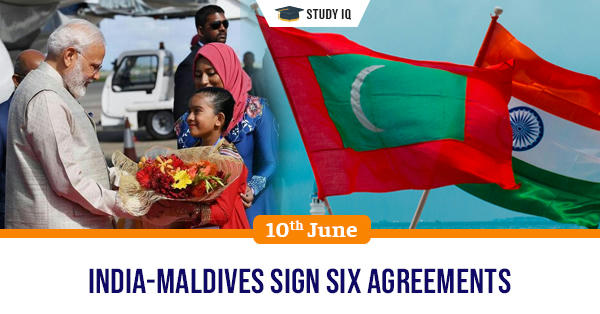 India-Maldives sign six agreements
Date: 10 June 2019
Tags: India & World
India and Maldives have signed six agreements in the fields of hydrography, health, passenger and cargo services by sea, Customs capacity-building, training of Maldivian civil servants and white shipping information. These agreements were signed during Prime Minister Narendra Modi's state visit to the Maldives. Both countries also agreed to intensify economic and cultural relations.
About Visit
It was first state official foreign visit of Prime Minister Narendra Modi after assuming office for second term. During the visit, India reaffirmed its neighbourhood first policy while Maldives strongly conveyed its India first policy. He also inaugurated Coastal Surveillance Radar System and Composite Training Facility of Maldives National Defence Force in Maafilafushi by remote link.
Note: During this visit, Prime Minister Naredra Modi was awarded prestigious Order of Distinguished Rule of Nishan Izzuddeen.
List of Agreements/MoUs signed
MoU for Cooperation in field of hydrography between Indian Navy and Maldives National Defence Force

MoU on Cooperation in the field of Health .

MoU for establishment of passenger and cargo services by Sea between Union Ministry of Shipping, and Maldives' Ministry of Transport and Civil Aviation.

Technical Agreement on sharing white shipping information between Indian Navy and Maldives National Defence Force.

MoU between India's National Centre for Good Governance (NCCG) and Maldives Civil Service Commission on Training and Capacity Building Programme for Maldivian Civil Servants

MoU for Cooperation in Customs Capacity Building between Central Board of Indirect Taxes and Customs of India (CBIC) and Maldives Customs Service