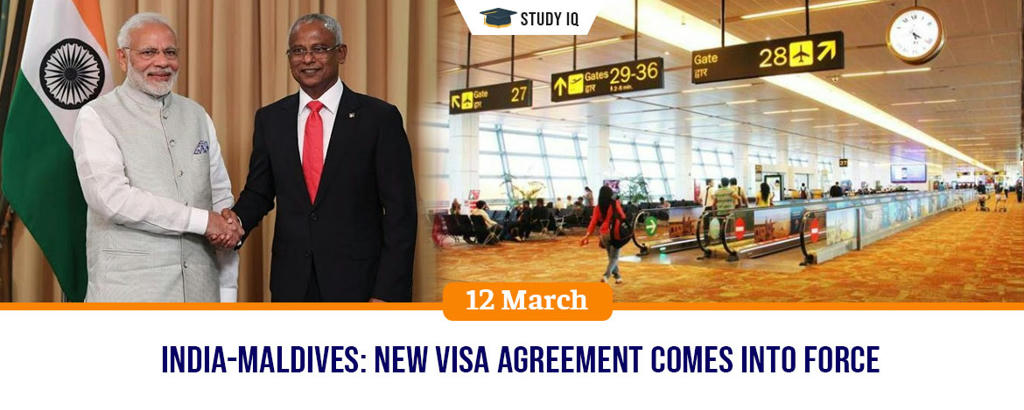 India-Maldives: New visa agreement comes into force
Date: 12 March 2019
Tags: India & World
The new visa agreement between India and Maldives come into force after governments of both countries completed required procedures for its implementation. The agreement aims to boost people-to-people ties between two countries.
New visa agreement
It provides liberal visa policy for Maldivians seeking medical treatment as well as education and business opportunities in India.

It allows Maldivian businessmen and tourists to stay in India for 90 days without a visa. It also makes it easier for Indians to travel to Maldives for business purposes.

It also allows Maldivians with tourist visas to stay in India for medical treatment if they suffer sudden medical issue.

It allows Maldivian parents to obtain visas that will be valid during duration of their children's academic term in India.
Background
The liberalized visa agreement was signed during visit of Maldives President Ibrahim Mohamed Solih to India in December 2018. It was Solih's first official foreign trip after his surprise victory over pro-China Abdulla Yameen. During Ymeen's tenure as President, Maldives relations with India had strained as he had laid out red carpet for China for strategic infrastructure projects and sidelined India completely.
Since President Solih took charge in November 2018, there have been several high-level exchanges with India and Maldives. Prime Minister Narendra Modi was only world leader to attend swearing-in ceremony of President Solih as special guest. India also has extended US $1.4 billion financial support to Maldives for socio-economic development programmes.