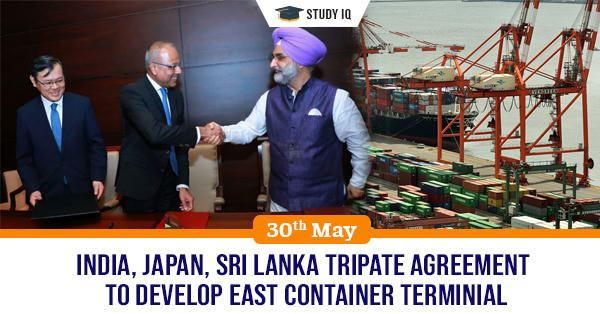 India, Japan, Sri Lanka tripate agreement to develop East Container Terminial
Date: 30 May 2019
Tags: India & World
Sri Lanka, Japan and India signed tripartite agreement- Memorandum of Cooperation (MoC) to jointly develop East Container Terminal (ECT) at Colombo Port. The ECT is located some 3 km away from China-backed international financial city, known popularly as "port city", being built on reclaimed land on Colombo's sea front. The specific terms of the agreement to jointly develop the ECT will soon be finalised at a joint working group meeting.
ECT at Colombo Port
Ownership:

Sri Lanka Ports Authority (SLPA) will have 100

%

ownership of ECT. While, Terminal Operations Company, conducting its operations, is jointly owned. Sri Lanka will hold 51

%

-stake in the project and the joint venture partners will retain 49

%.

Funding:

The joint initiative is estimated to cost between $500 million and $700 million. Japan is likely to provide 40-year soft loan with a 0.1

%

interest rate. It will be one of the best loan terms Sri Lanka has obtained.

India's Contribution:

Details of India's contribution to the initiative are awaited. But this project is significant for India as over 70

%

of transhipment business at strategically located ECT is linked to India.
Significance
The involvement of India and Japan in this project is being seen as a big development aimed at neutralising growing influence of China, which has poured money into Sri Lanka under its ambitious Belt and Road Initiative (BRI) initiative.By keeping Colombo port among top trans-shipment terminals in the world, India and Japan aim to reduce effect of China's BRI march in Hambantota Port. Hambantota port, at the moment is biggest transhipment hub for cars exported from Chennai (India) and bound for markets in Africa and Europe.China had taken on lease to run the Hambantota port for 99 years after Sri Lanka was not able to clear the debt for its construction and operation.