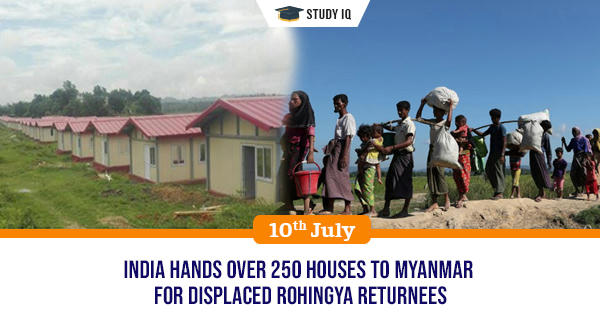 India hands over 250 houses to Myanmar for displaced Rohingya returnees
Date: 10 July 2019
Tags: India & World
India handed over 250 pre-fabricated houses for use of displaced returnees and displaced Muslim Rohingya minorities, who are currently residing in Myanmar's Rakhine State. These houses were built under India sponsored Rakhine State Development Programme (RSDP) worth the US $ 25 million. In 2019, India and Myanmar had signed memorandum of understanding (MoU) on RSDP aiming to contribute to the socio-economic development in the northern Rakhine State. The construction of 250 houses was the first initiative under RSDP and has been successfully completed. Another 22 proposals which include solar power related projects, construction-related projects, agriculture mechanisation projects, and capacity building projects are presently under consideration.
Background
About Rohingya: It is ethnic Muslim minority group, largely comprising Muslims living primarily in Myanmar's western Rakhine state. They practice Sufi-inflected variation of Sunni Islam. They differ from Myanmar's dominant Buddhist groups religiously, ethnically and linguistically (They speak Bengali dialect, as opposed to commonly spoken Burmese language in Myanmar).
Conflict: Myanmar considers Rohingya's as illegal Bengali immigrants, despite fact that they have resided in Myanmar's Rakhine province for centuries. Myanmar government even refuses to grant them citizenship status and as result they do not have any legal documentation, making them stateless. There are restrictions on their freedom of movement, state education and jobs in civil services. United Nations has often has described Rohingyas as one of the most persecuted minorities in the world.
Mass Exodus: Over 1.1 million Rohingyas have been forced to take shelter in Bangladesh's Cox Bazaar after Myanmar's armed forces, while responding to attacks by an armed group called Arakan Rohingya Salvation Army (also known as Harakat al-Yaqeen or Faith Movement), had launched a brutal campaign against the community in Rakhine state in 2017. Around 40,000 Rohingya refugees reside in India after having fled persecution in Myanmar, out of which 16,000 are registered with United Nations High Commissioner for Refugees.