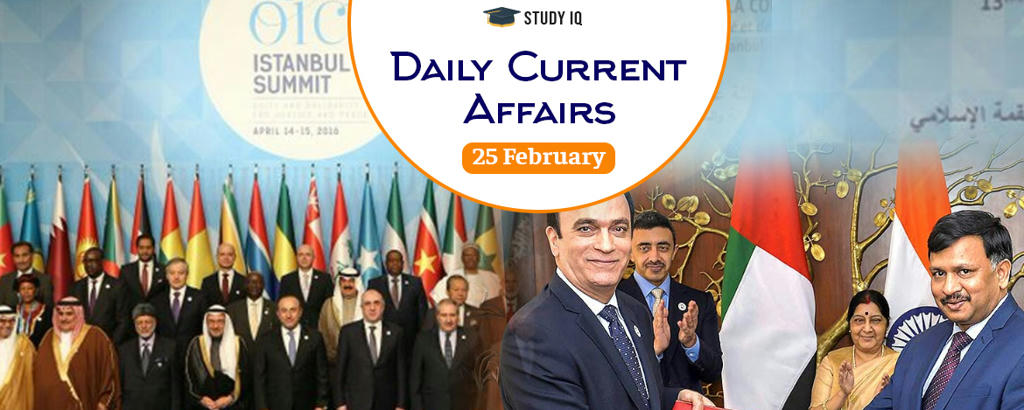 India for first time to participate in OIC meeting
Date: 25 February 2019
Tags: India & World, International Organizations
India for the first time will attend meeting of foreign ministers of Organisation of Islamic Cooperation (OIC) in Abu Dhabi, United Arabs Emirates (UAE). In this 46th meeting of OIC's Council of Foreign Ministers, India will be represented by External affairs minister Sushma Swaraj. She will address inaugural plenary session as guest of honour. India has been invited considering its international political weight and diverse cultural heritage and an important Islamic component.
Significance
It is significant development in efforts to boost relations with West Asian and Muslim-majority nations. It recognizes India's contribution to the Islamic world and to its pluralistic ethos.
It is reasonably significant development as OIC has traditionally not been supportive of India, especially over the Kashmir issue. Despite this development, India currently has no plans to make a fresh push for observer status with OIC.
46th meeting of OIC's Council of Foreign Ministers
It coinciding with organisation's 50th anniversary. Its theme is "50 years of Islamic cooperation: the roadmap for prosperity and development". It will discuss challenges facing Muslim world.

It will also discuss steps to promote peace and security, counter extremism and combat exploitation of religion and hate speech by inculcating moderation, restraint and tolerance.

It will also discuss problems faced by uslim minorities in non-member States, particularly Rohingya Muslims in Myanmar. There was no mention of Kashmir in the statement of meetings agenda.
Organisation of Islamic Cooperation (OIC)
It is international organization that aims to provide collective voice to Muslim world and safeguard and protect interests of Muslim world in the spirit of promoting international peace and harmony.

It was established in 1969. It has administrative centre (headquarters/

Secretariat) in Jeddah, Saudi Arabia. It is second largest inter-governmental organization after United Nations.

It consists of 56 member states spread over four continents with collective population of over 1.3 billion as of 2009 with 47 countries being Muslim Majority countries. It has five observer states.

It has permanent delegations to UN and European Union. Its official languages are Arabic, English, and French.

Issues with India:

Over the past few decades, India had, at best, prickly relationship with OIC, largely because Pakistan frequently used this grouping to target India on Kashmir issue. OIC on behest of Pakistan regarded parts of Kashmir as "occupied by India".

India was blocked country, though it is third largest country (after Indonesia and Pakistan) in terms of Muslim population (It has about 12% of world's Muslim population).

OIC was seen as pro Pakistan and its allies in Arab world have also had blocked attempts to give observer status to India.