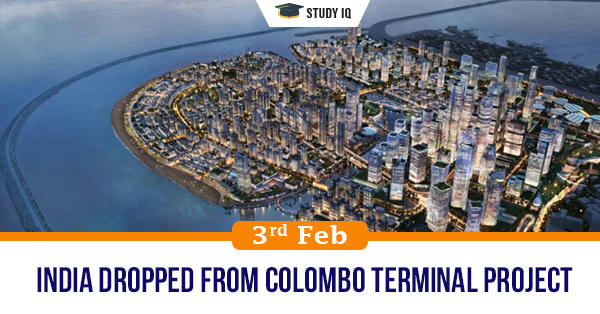 India dropped from Colombo terminal project
Date: 03 February 2021
Tags: India & World
Issue
After the strong opposition from trade unions across the country, the Sri Lankan government has been forced to drop a 2019 agreement with India and Japan to develop the strategic East Container Terminal (ECT) at the Colombo Port.
Background
Prime Minister Mahinda Rajapaksa gave a statement that the operation of the east terminal would be done by Sri Lanka Ports Authority on its own.
Details
Another meeting approved a proposal to develop the West Terminal at the Colombo Port as a Public Private Partnership with India and Japan, which was seen as a bid to compensate India.

India's response was that the island nation should not be taking a decision in a unilateral manner on an existing tripartite agreement.

It is unclear whether India would accept the latest proposal even as the Sri Lankan government rules out chances of further troubles.
Compensatory offer
Commercially, the west terminal offer is better for India as it gives 85% stake for developers of the West Terminal against the 49% in ECT.

West Terminal is almost the same if they consider the security aspect and the necessity to have a port terminal in Sri Lanka.

There is no difference between East and West Terminals except for the fact that development of the ECT is partially completed while the development of the West Terminal has to start from scratch.
Reasons for dropping India
Senior leaders of Prime Minister Mahinda Rajapaksa-led Sri Lanka Podujana Peramuna (SLPP) party said the pressure was immense on the President Gotabaya Rajapaksa to cancel the 2019 agreement.

Opposers had quoted his own presidential manifesto that was contrary to this 2019 agreement. He did argue with them citing the agreement in which the Sri Lanka government owned 51% stake in the development and operational project of ECT.
The East Container Terminal
As per the agreement signed by the former government administration, India and Japan together was to hold 49% stake in ECT.

There were reports and allegations among diplomatic circle that the Chinese had played a role in instigating port unions protest against India's interest.
Impact on Indo-Sri Lanka relationship
Many who are part of the Sri Lanka government as well as those who were known to the developments hope that the issue will die down soon with the offer of West Terminal.

Internationally an offended India can make life tough for Sri Lanka, isolating the tiny island nation, geo-politically and on the economic front.

The economic isolation will not help Sri Lanka at a time when the country is taking steps to revive the economy amid a pandemic.