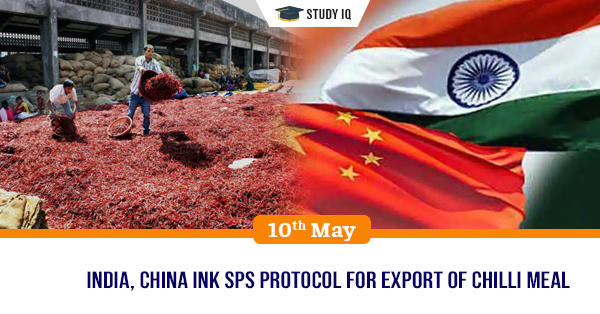 India, China ink SPS protocol for export of chilli meal
Date: 10 May 2019
Tags: India & World
India and China have signed Sanitary and Phytosanitary (SPS) Protocol for export of Indian chilli meal to the neighbouring country. This was fourth protocol signed between two countries over the past year and overall 9th protocol for allowing export of farm commodities from India to China. It was signed after meeting of Commerce Secretary Anup Wadhawan and General Administration of Customs of China (GACC) Vice Minister Li Guo in New Delhi.
Highlights of meeting
Both sides discussed trade-related issues of pending Indian request for clearance of more agricultural products for the Chinese market. They also agreed to resolve market access issues expeditiously in order to achieve the vision of leaders of both India and China by promoting more balanced trade.
Significance of meeting
It assumes significance as India is seeking greater market access for its manufactured and agricultural products in the Chinese market to bridge the widening trade deficit. Indian exporters are currently facing certain non-tariff barriers in the Chinese market that are restricting exports.
India has identified and shared with China list of 380 products, including horticulture, chemicals, textiles, and pharmaceutical products, as their shipments hold huge export potential to China. Increasing exports of these products will help India narrow widening trade deficit with China, which stood at US $50.12 billion during April-February 2018-19.