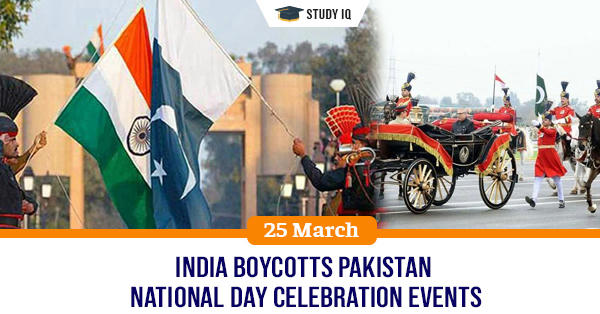 India boycotts Pakistan National Day celebration events
Date: 25 March 2019
Tags: India & World
India boycotted Pakistan National Day celebration events amid tensions between two countries over 14 February 2019 suicide attack in Pulwama, Jammu & Kashmir. India's announcement came after Pakistan invited leaders of Kashmir's separatist alliance All Party Hurriyat Conference to the ceremony. India considers this as brazen attempt by Pakistan to subvert India's unity and to violate our sovereignty and territorial integrity as these separatists are spearheading secessionist movement in the state of Jammu and Kashmir. It also amounts to direct interference by Pakistan in India's internal affairs and it officially abets and encourages individuals associated with terrorism and anti-India activities.
Pakistan National Day
It is celebrated every year on 23 March in recognition of passage of the Lahore Declaration on that day in 1940 calling for the creation of a separate state of Pakistan.

This day also marks adoption of first constitution of Pakistan during transition of Dominion of Pakistan to Islamic Republic of Pakistan on 23 March 1956 making Pakistan the world's first Islamic republic.

1940 Lahore Declaration or Pakistan resolution was adopted by Muslim League at its annual session at Minto Park in Lahore, Punjab on 23 March 1940.

It had called for establishing independent federation comprising provinces with Muslim majority located in north-western and north-eastern region of British controlled territories in India (excluding autonomous princely States).

The resolution was moved by Abul Kashem Fazlul Huq, often called Sher-e-Bangla and had signatures from the Founding Fathers of Pakistan.

Pakistan has also erected a monument Minar-e-Pakistan (Pakistan Tower) at Lahore to commemorate passing of this resolution and its importance in formation of Pakistan.