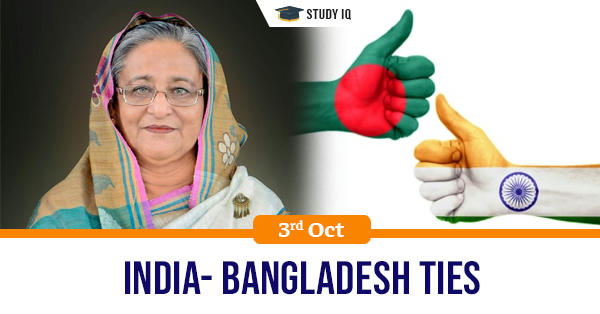 India- Bangladesh ties
Date: 03 October 2019
Tags: India & World
Issue
Prime Minister Sheikh Hasina's visit to India beginning October 3 is a much-anticipated political event. It wil try to ensure a strong friendship is forged between the two countries.
Background
After the liberation of Bangladesh, it was assumed that both countries would take their ties to the next level through common ideals. But the return of Islamic fundamentalists and dictators has derailed the potential for stronger ties.
Details
The upcoming trip of Prime Minister Sheikh Hasina can be viewed as an effort to re-invest in the special friendship that Bangladesh and India have developed during her premiership.

Bangladesh's relationship with India reached an all-time low when the BNP and Jamaat-e-Islami coalition government between 2001 and 2006 allowed Bangladeshi territory to host insurgent activities against the Northeastern states of India.

This unfortunate nosedive in the Bangladesh-India relationship was reversed after the electoral victory of the Awami League and Prime Minister Sheikh Hasina. Bangladesh-India ties have greatly benefited since then.

In 2015, the Indian government ratified the 1974 Land Boundary Treaty which executed a land swap of enclaves, settling historical anomalies dating back to the Partition of the subcontinent.

Bangladesh and India also peacefully obtained an international court ruling that allowed the two nations to explore resources in the Bay of Bengal without stepping on each other's toes.

It will likely touch on a wide range of issues that will require improvisation and cooperation from both governments to find new solutions to old problems.
Bilateral Issues
Improved management of all rivers that Bangladesh and India share, and a better framework is created to ensure their equitable distribution.

India's cooperation in upgrading its railways, roads, and shipping infrastructure, and might ask for the export of more electricity to Bangladesh.

The NRC is likely to remain a real concern for both neighbours, and Bangladesh is likely to keep a close watch on it.
Peaceful solution to the Rohingya refugee crisis.