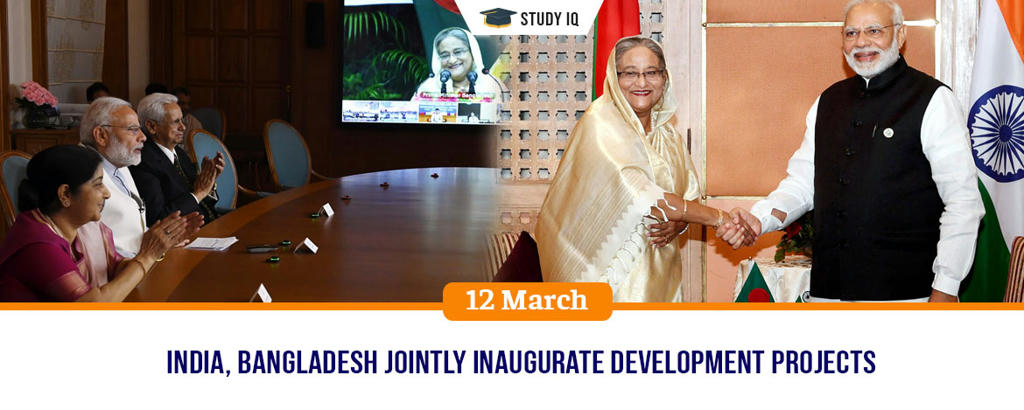 India, Bangladesh jointly inaugurate development projects
Date: 12 March 2019
Tags: India & World
Prime Minister Narendra Modi and his Bangladesh counterpart Sheikh Hasina jointly through video conferencing unveiled e-plaques for multiple developmental projects in Bangladesh. These projects are aimed at boosting transport connectivity and knowledge connectivity between both countries and play key role in improving quality of life of people in Bangladesh.
These projects are
Supply of buses and trucks

: They will assist efforts towards affordable public transportation.

36 community clinics:

They will help to provide affordable healthcare to around two lakh people, in Bangladesh.

11 water treatment plants:

They will help supply clean water to people of Bangladesh.

Extension of National Knowledge Network (NKN) to Bangladesh:

It will help to connect scholars and research institutes in Bangladesh to India and world.
National Knowledge Network (NKN)
It is aimed at establishing strong and robust Indian network which will be capable of providing secure and reliable connectivity.

It was launched in 2010 with National Informatics Centre (NIC) as the implementing agency.

Objective:

Its state of art multi-gigabit capability that aims to interconnect all institutions of higher learning and research with high speed data communication network to facilitate knowledge sharing and collaborative research.

Bring together all stakeholders from science, technology, higher education, healthcare, agriculture and governance to common platform.

It seeks to bridge existing knowledge gap in country and help country to evolve as Knowledge Society and also spur economic activities in the Knowledge domain.

Features:

It facilitates advanced distance education in specialized fields like science, engineering, medicine etc. It also enables ultra-high speed e-Governance backbone. It also enables collaboration among researchers from international educational networks like CERN, TEIN4 etc.

Knowledge Diplomacy:

India has extended this project to all South Asian Association for Regional Cooperation (SAARC) countries, excluding Pakistan.