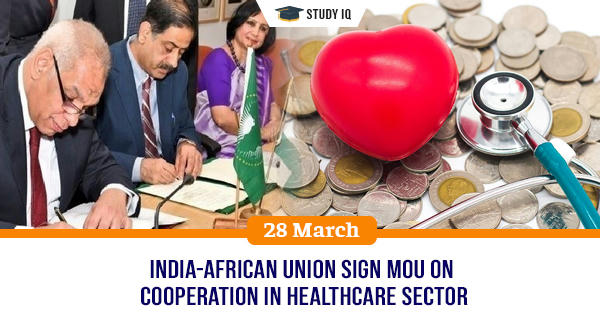 India-African Union sign MoU on cooperation in healthcare sector
Date: 28 March 2019
Tags: India & World
India and African Union (AU) has signed MoU to initiate and strengthen cooperation in health sector in structured and organised manner. Under this MoU, India-Africa Health Sciences Collaborative Platform (IAHSP) will be established.
Features of MoU
It aims to formalise this partnership by establishing IAHSP. It will pave the way for cooperation in areas of research and development, capacity building, health services, pharmaceutical trade and manufacturing capabilities for drugs and diagnostics.

ICMR is mandated to initiate and strengthen cooperation in health sector in a structured and organized manner by establishing IAHSP.

This programme will focus on training and strengthening capacity of health professionals, regulators, researchers and industry staff, support research collaborations for developing preventive tools and improved diagnostics for diseases which are regional priorities in India and Africa.

Significance:

It will carry forward strategic vision of India-Africa Forum Summit (IAFS) III through structured and concrete partnership in health sector. It will carry out objectives set in first India-Africa Health Sciences Meet in 2016 held in New Delhi.