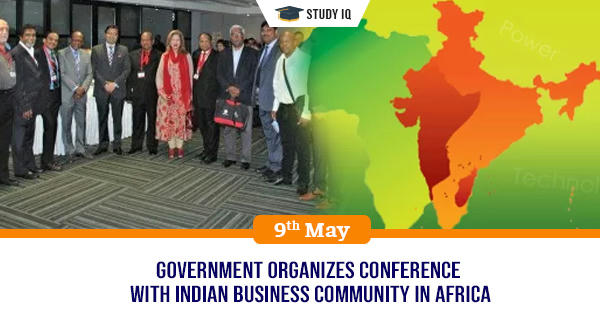 Government organizes conference with Indian business community in Africa
Date: 09 May 2019
Tags: India & World
Union Ministry of Commerce along with Indian High Commissions and Embassies of eleven African countries had arranged interaction over Digital Video Conference (DVC) with Indian business community in Africa. The purpose of this DVC was to hold discussions with Indian business community in Africa in order to further deepen and strengthen India-Africa trade ties. It was attended by over 400 members of Indian business community from eleven African countries.
India-Africa Trade Status
India's total trade with African region during 2017-18 was US $62.69 billion. It accounted for 8.15% of India's total trade with the World. India's share of exports to African countries as a percentage of India's total exports to the world was 8.21%. Whereas, Africa region's share in India's total imports accounted for 8.12% in 2017-18.
Trade opportunities in Africa:
Africa being world's largest land mass and having total 54 countries offers immense opportunities for India. Its population is growing and will be almost equivalent to that of India and also there decline in poverty levels and increasing consumption patterns. It also has huge mineral resources, oil wealth and youthful population. Africa provides demand for new business models for market entry, stable market access, investments and entrepreneurship in transport, telecom, tourism, financial services etc.
Indian Diaspora in Africa
African countries constitutes 9.11%%of the total Diaspora of India (2.8 million out of those 2.5 million are PIOs and rest are NRIs). Indian community in Africa is playing a vital role in all fields like business, politics and education.