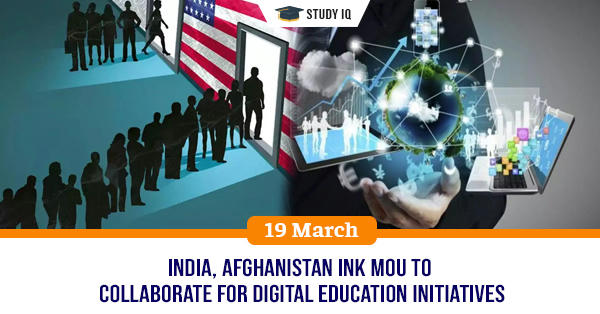 India, Afghanistan ink MoU to collaborate for digital education initiatives
Date: 19 March 2019
Tags: India & World
India and Afghanistan have signed memorandum of understanding (MoU) for collaboration on digital education initiatives. It was singed between Union Ministry of Human Resource Development and Ministry of Higher Education, Afghanistan. Indian Institute of Technology-Madras will also be a part of the collaborations.
Fields of Cooperation under this MoU
Share of online education platform- SWAYAM (Study Webs of Active Learning for Young Aspiring Minds) developed by India.

Facilitate use of Massive Open Online Courses (MOOCs) available in SWAYAM Platform by faculty and students from educational institutions in Afghanistan.

Impart training to faculty and students in educational institutions in Afghanistan for using the SWAYAM Platform.

Build capacity faculties and related staff in e-learning in Afghanistan. Assist Afghanistan's Ministry of Higher Education to develop its own MOOC platform.
SWAYAM Portal
It indigenously designed massive open online course (MOOC). It aims to achieve three cardinal principles of Education Policy viz., equity, access and quality.

Its objective is to take best teaching learning resources to all, including most disadvantaged. It also seeks to bridge digital divide for students in online education,

It hosts all courses taught in classrooms from 9th class till post-graduation. These courses can be accessed by anyone, anywhere at any time.