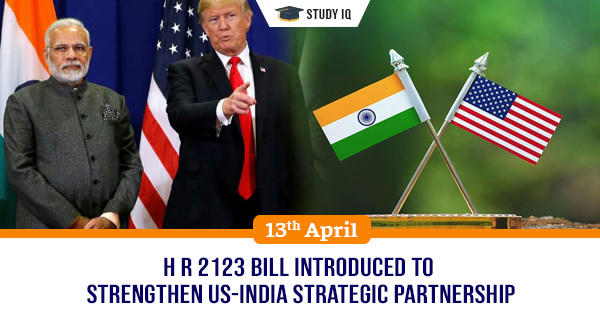 H R 2123 Bill introduced to strengthen US-India strategic partnership
Date: 13 April 2019
Tags: India & World
Several United States (US) lawmakers have reintroduced important legislation (bill) named as H R 2123 in House of Representatives that seeks to strengthen US-India strategic relationship. If enacted, this legislation will ensure that US State Department treats India as NATO ally for purposes of the Arms Export Control Act.
Key Facts
H R 2123 Bill was introduced this week by Congressman Joe Wilson, a senior member of the House Foreign Affairs Committee. Its co-sponsors are Congress man Ami Bera (longest serving Indian-American in US Congress) and House India Caucus Co-Chairs, Congressmen George Holding, Brad Sherman and Congressman Ted Yoh and Congresswoman Tulsi Gabbard.
Significance
This legislation will advance India-US strategic partnership as US considers India, the world's largest democracy as pillar of stability in Indo-Pacific region. It will prioritize US defence sales to India according to US-India Strategic Partnership Forum, which had worked on this important legislation. It will further allow the US-India partnership to flourish in line with US's security commitment to the Indo-Pacific region.
Background
The proposed H R 2123 Bill follows National Defense Authorization Act (NDAA), 2017 including special language that designated India as "Major Defence Partner" of the United States. The two legislations taken together illustrates major changes that have taken place in the India-US relationship over the past two decades.