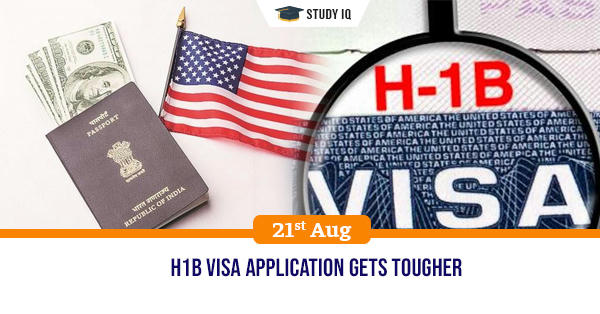 H1B visa application gets tougher
Date: 21 August 2019
Tags: India & World
Issue
US immigration department has taken steps to stop fraudulent use of H1B visas. These measures have made application of H1B visas difficult for foreign workers.
Background
USA is a major destination for foreign workers especially skilled and semi skilled ones. Large employers apply for long term visas for their employees to work in US called as H1B visas. Recent misuse has forced authorities to introduce stringent measures.
What is H1B visa?
The H-1B visa is a non-immigrant visa that allows US companies to employ foreign workers in specialty occupations that require theoretical or technical expertise. Most of the Indian IT professionals go to the US on the H-1B work visas.
How H1B visas work?
A specialty occupation requires the application of specialized knowledge and a bachelor's degree or the equivalent of work experience. The duration of stay is three years, extendable to six years. The visa holder may need to reapply after his/her visa expires.

A person in H-1B status must continue to be employed by their employer in order to stay in H-1B status. If the person's employment ends for any reason, the person must leave the United States, unless the person applies for and is granted a change of employment status who is ready to sponsor work visa.
H1B visa and India
If the US government goes ahead with this decision, the Indian IT sector can suffer massively. India is one of the biggest countries to contribute to the IT sector in the US and the H-1B visa restriction could affect thousands of Indian IT professionals working abroad.

Indian IT firms could also face difficulties in serving their foreign clients. Major Indian IT firms such as TCS and Infosys could face difficulties in servicing their US-based clients which contributes towards a majority of their business.

With restricted H-1B visas, these firms will not be able to send their personnel to the US for servicing the clients. Indian IT firms rely on the H-1B visa send support staff to the US for maintenance and servicing.