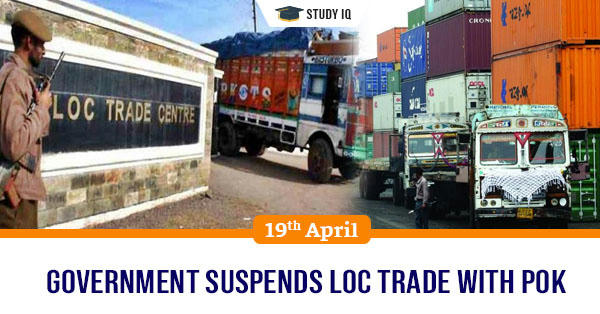 Government suspends LoC trade with PoK
Date: 19 April 2019
Tags: India & World
Union Ministry of Home Affairs (MHA) has issued orders to suspend cross-Line of Control (LoC) trade at Salamabad and Chakkan-da-Bagh between Jammu & Kashmir and Pak Occupied Kashmir (PoK). This step has been taken in view of these trade routes being misused by Pakistan based elements for funnelling illegal weapons, narcotics and fake currency etc. This decision was taken based on reports from National Investigation Agency (NIA) and Intelligence Bureau (IB).
Background
After Pulwama attack in February 2019, India withdrew Most Favoured Nation (MFN) status to Pakistan. The suspension of cross-LoC trade is projected as muscular and aggressive way to further corner Pakistan over its covert support to cross border terrorism. But this move will have only a marginal impact economically on Pakistan as average trade volume around Rs 500 crore per year.
Background
India and Pakistan had started cross-LoC trade in 2008, more as confidence-building measure (CBM). It was meant to facilitate the exchange of goods of common use between local populations across the LoC in Jammu & Kashmir. Since them the trade volume had touched Rs 5,000 crore by March 2018. As many as 21 products are listed for exchange between J&K and PoK in trade that is conducted from Tuesday to Friday every week.
In 2015-16, NIA had recommended closure of cross-LoC trade routes over reason of being misused on very large scale. It has been revealed that trade has changed its character to mostly third party trade and products from other regions, including foreign countries, are finding their way through this route. Besides, it also had noted that unscrupulous and anti-national elements are using this cross border route as conduit for hawala money, drugs and weapons, under the garb of this trade. In recent NIA probe against separatist leaders, it had found that proceeds from trade across LoC are being used to finance terrorist and separatists activities in the Valley.