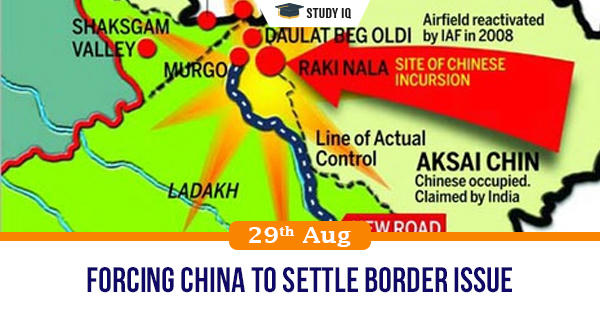 Forcing China to settle border issue
Date: 29 August 2020
Tags: India & World
Issue
After the loss of lives of Indian soldiers at Galwan, there have been calls for the boycott of Chinese goods. Counter views have been expressed that the Indian economy is so dependent on China.
Details
The size of the Indian market and its potential in the coming years provides India considerable leverage that we should be willing to use fully.

But to use this leverage, Indians, individual consumers as well as firms, have to accept that there would be a period of adjustment in which they would have to pay higher prices.

The bottom line that needs to become clear to China has to be that without a mutually satisfactory border settlement and a permanent end to these border incidents, it cannot be business as usual and the Indian market would start shrinking for them.

The Chinese have competitive advantage and are integral to global supply chains. But whatever they sell is, and can be, made elsewhere in the world

The initial focus should be on items which are still being made in India and where imports from China have been increasing.

Selective imposition of China-specific safeguard duties and use of non-tariff trade barriers should be enough in segments like electrical appliances to let Indian producers expand production and increase market share.

The government should also facilitate the flow of finances for expansion and provide technical support for testing, improving quality and lowering costs of production.