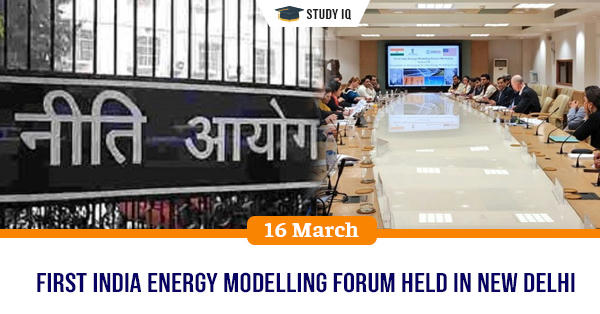 First India Energy Modelling Forum held in New Delhi
Date: 16 March 2019
Tags: India & World
The first workshop on development of India Energy Modelling Forum (IEMF) was recently held in New Delhi. It was organized by NITI Aayog and United States Agency for International Development (USAID) under Sustainable Growth Pillar of India-U.S. Strategic Energy Partnership. It was supported by Pacific Northwest National Laboratory (PNNL).
India Energy Modelling Forum (IEMF)
It was aimed at improving cooperation and coordination between modeling teams, Central Government, knowledge partners and think-tanks.

It also aimed at building capacity of Indian institutions, and identify issues for joint modeling activities and future areas of research.

It was envisaged as pan-stakeholder platform for debating ideas, scenario-planning & discussing the India's energy future.

It provided platform for leading experts and policy makers to study important energy and environmental issues and ensure induction of modelling and analysis in informed decision making process.
India-US Strategy Energy Partnership
It was announced by Prime Minister Narendra Modi and US President Donald J. Trump during their June 2017 Summit in Washington, D.C.

It affirms strategic importance of energy cooperation to Indo-US bilateral relationship.

Under it, both countries collectively seek to enhance energy security, expand energy and innovation linkages across energy sectors, bolster strategic alignment and facilitate increased industry and stakeholder engagement in energy sector.

Four primary pillars of cooperation under this cooperation are: (i) Oil and Gas (ii) Renewable Energy and Sustainable Growth, (iii) Power and Energy Efficiency and (iv) Coal.